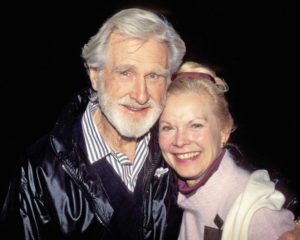 The recipient of this year's California Scuba Service Award is Zale Parry. The California Scuba Service award was created in 1989 and is awarded annually by the SCUBA Show and California Diving News to recognize those who have made long-lasting contributions to the California sport diving community.
Zale Parry is recognized as "The First Lady of Diving." Zale is most associated with her role in the television series, Sea Hunt (1957 to 1961). The underwater detective show, starring Lloyd Bridges as Mike Nelson, is credited with introducing scuba diving to millions of people, and literally created an entire generation of divers.
While working in California at the Douglas Aircraft Company, she did pioneering diving and scientific work. In 1953 Zale became a test diver of underwater equipment for Scientific Underwater Research Enterprises. Later, she was involved in designing, building and marketing the first hyperbaric chamber available for use by civilian divers.
In 1954, Zale set a women's scuba diving depth record of 209 feet. During that same year she became the third female instructor to graduate from the L.A. County program. Later that year Zale made her screen debut in Kingdom of the Sea, which was shown in 70 countries and had a successful run of several years.

From the 1950s through the 1990s, Zale performed as an actress and underwater stuntwoman. Zale appeared on the cover of the May 23, 1955 issue of Sports Illustrated, its first Swimsuit Edition, as the "sweetheart" of scuba diving.
Zale is also an accomplished photographer and writer. In 1957, she co-founded the International Underwater Film Festival, which ran for 17 years. In 1960, she became the first elected woman president of the Underwater Photographic Society. She wrote and published a book with the late Al Tillman, Scuba America Vol. I, the Human History of Sport Diving in America.
Zale has been inducted into the International Scuba Diving Hall of Fame and the Women Divers Hall of Fame. She has been widely recognized for her achievements and is a recipient of the NOGI Award for Distinguished Service, DEMA's Reaching Out Award, the Women's Scuba Association Scuba Diver of the Year Award, the Los Angeles Parks and Recreation Education Award, and the Beneath the Sea Diver of the Year Award. In 2001, the Academy of Underwater Arts and Sciences made her a "Lifetime Ambassador at Large."