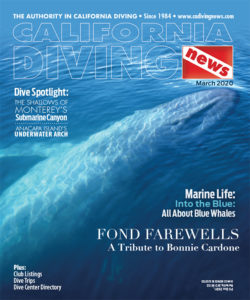 Walk into a dive store in Indiana and ask the person behind the counter about diving in Bonaire. Or about the Cayman Islands. They have been there, and can tell you anything that you want to know.
Tell them that you are going on a business trip to California and would like to dive there — what can they tell you about it? Odds are, blank stares.
California is an underwater treasure, unique in the diving world for it's marine life, the number and sheer diversity of its diving locations, and its underwater beauty.

California Diving News, both as a magazine and as a web site, is published to support the California market, and to be a resource and inspiration for anyone who wants to dive the state's waters. Our publication's distribution within and way outside of the state (even to that store in Indiana) is intended to do that.
We are especially high on the charter boats who take people diving and keep them active, and we publish their trip schedules as a main feature of this site.
Thank you for reading, and welcome to California Diving (News).