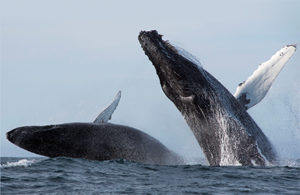 At-A-Glance
Skill Level: Divers and non-divers will enjoy this experience.
Location: Offshore of Monterey Bay and Carmel Bays
Access: Boats may be launched from the public ramps at Monterey Breakwater, between Fisherman's Wharf and Wharf #2, and Moss Landing. Commercial whale watching boats depart from Monterey, Moss Landing and Santa Cruz harbors.
Facilities: None
Entry and Exit: Only boat access
Depth Range: Variable
Conditions: Highly variable
Visibility: Not relevant
Photography: Great photography for marine mammals
Hunting: None

Cautions: Be aware of changing conditions.
So, what does a diver do in Monterey when conditions aren't right for a fun dive? My buddy James and I found ourselves in this situation back in March. It was a bright sunny day, but there was a long wavelength swell running. Some dive sites had too much water movement for a fun dive, and others had poor visibility. What should a couple of photographers do? We pointed the boat west into the "wild blue yonder" and began our search for marine mammals.
March is prime time to watch gray whales. Although gray whales migrate through Monterey from late December through May, the late part of the season offers better opportunities for whale photography, as the whales are often accompanied by their calves that were born in Baja a few months earlier. Young whales swim slower than adults, and cannot dive as long. Mothers also travel close to the coast when migrating north with their young to avoid pods of orcas. Orcas will hunt gray whales in the spring, and they are particularly fond of young gray whales. They are aware of their migration routes and tactics. Pods of orcas will hang off the gray's migration route off of Moss Landing, ready to ambush the unsuspecting whales. Whale watch boats have observed many of these hunts in recent years.
On this particular day there were plenty of gray whales traveling north in small groups. We kept a respectful distance while photographing whale tails, but every now and then a curious whale would swim close to our boat for a closer look. This is the kind of photography and animal encounters where patience is everything. Remember you cannot make an encounter happen; you must keep your distance, and leave it up to the whale to initiate the encounter. Spend some time with a knowledgeable skipper and magic can happen.
Humpback whales are found off Monterey throughout the year, but are normally found in greatest numbers from April through November. Humpbacks are not migrating through Monterey's waters — they are here to fatten up on small fish. The waters off Moss Landing or Point Piños are often great places to spot humpbacks. In recent years Monterey's waters are a bit warmer, and schools of small fish often congregate right off of Moss Landing. These days you do not need to have access to a boat; and it is easy to get great views of these enormous marine mammals right from the beach. They are among the most acrobatic of marine mammals, and when they are not lung feeding, you will find them breaching, tail slapping or resting with their enormous pectoral fins out of the water.
In addition to humpback and gray whales Monterey Bay is seasonally home to a great many cetaceans. You never know what you will find. Blue whales, fin whales, and beaked whales are infrequently encountered during the summer and fall months, as are bottlenose, common, and Pacific white-sided dolphins, and harbor porpoises. Risso's dolphins may be observed throughout the year.
Another treat that the open ocean might offer is a glimpse of a blue shark. These were once very common in Monterey Bay, but their numbers have been drastically reduced due to overfishing. However, recent fishing restrictions are allowing the population of blue sharks to recover and the chances of seeing one in the later summer are improving. For the best shot at sighting blue sharks, seek water at least 62°F and more than 200 feet deep. Tossing them a mackerel or two will keep them around the boat.
Hiring a knowledgeable boat skipper will give you your best shot at encountering a variety of marine life, although there are no guarantees what you'll see. Plan to dress in layers and bring a hat and polarized sunglasses. And don't forget the sunscreen. Of course, bring your camera, and if you have a pair of binoculars, bring them along too. Sea conditions vary, so if you're prone to motion sickness, it's best to medicate yourself before setting out to sea.
A day or two after our trip, James posted a comment on Facebook, saying he thought we might be spoiled for not diving when conditions weren't "perfect." While he does have a point, I'd like to offer a different perspective. As underwater photographers, we already knew the swell and low visibility would be working against us from the start, so it was better for us to change plans and enjoy a day of boating instead of diving. In the end, we had a fabulous time photographing marine life.
The author wishes to thank James Moskito at Safari Monterey for his help in the preparation of this article.