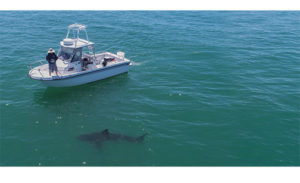 Baby shark. Doo doo doo doo doodoo. Since its release in November 2015 the original "Baby Shark" video has had over 2.2 billion YouTube views and the song is on the Billboard Top 100. Toddlers everywhere are snuggling baby shark plushies and adults are wasting lots of time at work uploading #babysharkchallenge posts. Most divers love sharks, but the "Baby Shark" phenomenon has taken shark-loving mainstream.
Through the wonders of social media, I learned about a guy named Eric Mailander, who's something of a real-life baby shark expert. Eric's day job is as a paramedic/firefighter but in his spare time the boat captain, commercial drone pilot and citizen scientist specializes in spotting pup and juvenile great white sharks in an area off Monterey Bay he calls "Shark Park." I reached out to him about his passion for sharks and in this article I'll share our conversation.
So, how did you get started as shark spotter?
I've been a licensed boat skipper for eight years and a diver for over 40 years. I've always had a keen interest in marine biology and oceanography. I took courses in college but didn't end up in that field. I enjoy my work in fire service and I'm fortunate that my flexible work schedule allows me time to be out on the water in my boat. I have a fascination with sharks and have been volunteering with shark research projects for 13 years. I've been using my drone at Shark Park for three years now. I work mainly from my boat, but the drone also allows me to do some shark spotting from land.
Where is "Shark Park" located?
Off Monterey Bay. I once asked noted oceanographic explorer Jean-Michel Cousteau to name is favorite dive destination and his answer surprised me — Monterey Bay. The Monterey Bay Natural Marine Sanctuary attracts divers from around the world, who are lured by the unique beauty of kelp forests and ecologically diverse marine life. Famous for its massive deep sea canyon, about twice the size of the Grand Canyon, Monterey Bay is truly a world-class dive destination. I'm proud to have learned to scuba dive here when I was just 11 years old.
Some of the more popular dive sites go by names such as Monastery Beach, Coral Street, Lovers Point, Pinnacles, Metridium Fields, Butterfly House and Whaler's Cove — and now Shark Park. It's no secret that this area, located in Soquel Cove in the northern portion of Monterey Bay is now home to the largest gathering of juvenile white sharks on the planet. It's an area of only 1 1/2 miles long, from the Cement Ship (SS Palo Alto) at Seacliff State Beach to the northern portion of New Brighton State Beach.
Why are so many "baby sharks" in this area?
Every spring, and through the summer, pup and juvenile white sharks gather and take up residence off the beaches of Aptos. You see, small white sharks are endotherms, they need warmer water until they mature. So, water temperature plays a huge role in their presence in Monterey Bay. Younger white sharks typically reside in the warmer waters of the southern California Bight to Baja California. But due to warming water temps the young sharks have increasingly wandered north in the past several years, leading to more frequent sightings. Shark scientists attribute this habitat shift to the 2014-2015 El Niño event.
My friend Chris Gularte, owner and operator of Specialized Helicopters (specializedheli.com) based out of Watsonville, was the first to notice the increase in numbers of white sharks starting in October of 2011. In July of 2015 I ventured up with Chris in one of his helicopters, flew to Soquel Cove and we counted 12 sharks just offshore within a half-mile area. By the summer of 2015 the sharks appeared to be here to stay. The pocket of warm water in Soquel Cove seems an ideal spot for these young ones.
Female white sharks are known to pup in SoCal but we will probably see them pup here in our lifetime. I have seen pup sharks here so maybe there have been a few births in the Monterey Bay Marine Sanctuary already.
Should the increase in numbers of white sharks in the Monterey area be a concern for divers and beachgoers?
Most of the kid sharks are fish eaters. Juvie sharks eat fish, skates, rays and other, smaller sharks. They're after small stuff and are not patrolling the beaches looking for swimmers or boogie-boarders. We do see a few large, mature sharks from time to time, though. I've seen some up to 13 feet in size. Adult great whites are pinniped eaters. They could potentially mistake a human for a pinniped, so there is some risk, yes. I've noticed some of the larger sharks with sea lion scratches on their heads and snouts. And I've seen some sharks with massive shark bite wounds on their heads, presumably from encounters with other, aggressive and territorial sharks. Although the sharks seem to coexist well enough, it is common for them to interact, with smaller sharks giving way to the larger models.
Of course, so many sharks inhabiting this new shark hotspot can and does result in human contact. Most are intentional by people who want to see the sharks up close and personal. In hundreds of hours spent doing aerial surveys I have only once observed a pinniped feeding event, probably on a harbor seal. It was a larger shark that had ventured into the area. Mostly the sharks just cruise the beachline minding their own business. Sadly, many shark-human interactions are boat strikes or fishermen who have snagged their lures on the sharks.
So, back to your citizen science work. How do you collect data on shark sightings and where does it go?
I use a Phantom 4Pro drone, GoPro 5 on an extension pole and Nikon D7001 digital camera with various lenses. As I said before, I typically go out in my boat, often accompanied by shark scientists, professional videographers and shark researchers. But mainly by myself or with a friend. I have had a BBC film crew on my boat and skippered a boat for Nat Geo last spring. Next season I'll be working with a UK documentary crew on a Netflix series on Marine Sanctuaries. They're doing a segment on the white sharks off Monterey.
As a drone pilot, I have assisted shark researchers in locating sharks in order to tag and measure. For the last three years I have conducted white shark population counts. On any given day during the season, I'll spot four to 12 sharks. Some days I had high shark counts of well over 20 sharks within a half mile zone! In 100 flights over the area this season alone, there were only five trips on which I did not see any sharks. 

My data collection goes straight to the senior shark scientist at the Monterey Bay Aquarium, who is the only scientist doing the research here at this time. He is compiling an extensive database, but nothing has been made public yet. We will have a scientific paper about the Soquel whites published sometime next year.
The total number of sharks is what we are focusing on. It's hard to tell at this time but a conservative figure would be up to 50 sharks in one day if you were to factor in the sharks at Marina as well. My personal record high count is 25 juvenile white sharks in one day at New Brighton State Beach. There are probably well over 100 sharks that visit the area seasonally but it's tough to determine individuals (and not re-counts from previous trips). The only sure way to tell the sharks' identities is with good photos of their dorsal fins. That's why I use a GoPro for underwater video.
Again, the sharks are coming from the SoCal area. One shark had an acoustic tag that we pinged with a receiver a few months ago; it had been tagged two years ago in the Santa Monica Bay or Los Angeles area. They head south when the water cools, usually by the end of summer.
Shark scientists are just starting to tag the sharks to learn more about their habits and movements. So far, some interesting data has been gathered. And if we're going to help protect sharks and manage our oceans' resources we need to learn more. Like I said, I'm fascinated with sharks and I'm just happy to play a part.
Do you get in the water with the sharks?
No, not here. The water is too murky; it'd be difficult to view them underwater and it's illegal to use bait to lure a white shark to a boat. We're better off using the drone and trying to get close by boat. What's great is that we can observe the sharks in their natural habitat.
I have made a trip out to Guadalupe, Mexico to cage dive with great whites. It was awesome.
If people want to see great whites here, several whale watch companies are now running shark trips. I moonlight as a drone pilot on one of them. The charter boats Velocity and Sea Spirit out of Santa Cruz, and Sanctuary and Sea Goddess out of Moss Landing run seasonal trips. Even if you're not on scuba, seeing the sharks from a boat is still very cool.
Do you have any personal shark-spotting stories you'd like to share?
I have lots of personal stories, like when a shark tried to eat my GoPro but I got it back. That made for some interesting anatomy video. One day an adult male sea lion jumped into my boat as it was being pursued by a large white shark but that was in an area farther north. I have kayaked with white sharks several times, which is always thrilling.
And sadly, a dead white shark washed up on shore last year. It had been shot in the head. That pissed me off. 
I think my all-time time best story is when a hydrofoil rider accidentally collided with a huge white shark. The rider was launched into the water. I had been filming the shark with my drone, but I just missed filming the event. That happened in early October.
Anything more you'd like to share?
I'd just like to say I feel lucky to be able to spend so much time out on the water spotting sharks and helping scientists with their research, and filmmakers with their various projects. I hope this article inspires others to seek out ways to support shark conservation here in California and all over the world. 
How You Can Help
If you're looking for a way to get involved with a local organization that supports shark conservation, check out SharkStewards.org. The organization is dedicated to passing legislation banning the shark fin trade, prohibiting longline fishing off the Pacific coast, and establishing shark sanctuaries. They also sponsor educational seminars and run seasonal boat trips to the Farallon Islands.