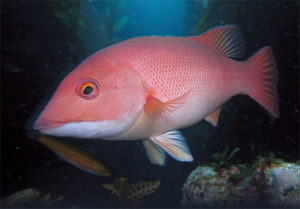 Our group had just completed two great dives in conditions that were a bit challenging due to depth and moderate to strong currents. We were ready for our last dive of the day to be another great experience, so we were happy when the divemaster and skipper chose Doctor's Cove as our final dive site of the day.
Because Doctor's Cove is in the vicinity of spectacular Emerald Bay it is often ignored. You see, the reefs surrounding Indian Rock in the middle of Emerald Bay offer good visibility and lots of marine life. Because this is an ideal diver's playground, it can be crowded with other boats, especially during busy summer weekends. As a result, nearby Doctor's Cove often gets overlooked. We were glad our crew suggested this site, as it was the perfect dive to round out the day.
A highlight of Doctor's Cove is a fiberglass sailboat wreck 50 to 55 feet down on a gently sloping sand bottom. The 29-foot Extreme Snailing rests on her port side with the bow pointing roughly toward shore, although the wreck will no doubt move around in a storm. The boat sank in a storm in May, 2011 and now has a substantial amount of growth on the hull. The cabin is still intact and open for exploration, but it's a tight fit, so you're better off just using a dive light for a peek inside. (Never enter a wreck, even a small one, without proper training and equipment.) There is little in the way of fish life, but you'll notice lobsters wedged under the hull and in the interior. Look but don't touch, as this area is part of a marine preserve that protects marine invertebrates.
Off the wreck's bow is a small but healthy forest of elk kelp. This type of kelp is not uncommon but it is usually found only in deep water. Unlike macrocystis kelp, which has lots of small air bladders, elk kelp has only one roughly baseball-sized air bladder from which long, wide fronds branch. When exploring this area it's not unusual to find rockfish, halibut and even lobster.
Heading up the slope toward shore and veering west a bit will bring you to the delightful patch reefs of Doctor's Cove. Rising about five to 10 feet off the 40-foot bottom, their profiles are not dramatic but there are enough nooks and crannies to attract a variety of marine life, including horn sharks, small sheephead, calico bass and garibaldi. Dotting the reef are ghost gobies and the brightly colored blue-banded gobies. Small schools of fish, including opaleye, circle over the reef. Toward the cove on the sandy bottom large leopard sharks move in during the summer, as do large bat rays.
The point northwest is a long swim but if you choose to head that direction there are some fascinating patch reefs in deeper waters with interesting marine life amongst stands of gorgonian.
Toward the southeast inside the point the reef is a series of spiky ridges that rise 15 feet from the bottom. Most of these reefs are in shallow water, 35 feet or less but are interesting nursery areas, especially for juvenile garibaldi, which are bright blue in color.
Off either one of the points are wonderful stands of healthy gorgonian that live off nutrients carried by the currents. While most of the cove is well protected, use caution when venturing off the points, as currents here can be intense.
A wreck, a reef and a kelp forest can all be enjoyed when you dive Doctor's Cove. This site is now on our list of Catalina Island favorites. We suggest you visit it sometime.
At -A-Glance

Skill Level: Novice and higher
Location: Mainland side of Catalina Island just northwest of Emerald Bay. GPS N33° 28.26', W118° 31.878'.
Access: Boat only. (Shore diving possible only if you are directly connected to the Boy Scouts of America as guest of Emerald Bay Camp. For more information contact Malibu Divers at (310) 456-2396.)
Entry and Exit: Nearly always calm.
Skill Level: All.
Depths: 20 to 65 feet.
Visibility: Good averaging 30-40 feet.
Photography: Good wide-angle shots on wreck. Macro is fair to good on reefs.
Hunting: Taking of invertebrates, including lobster, prohibited. Spearfishing, poor.
Hazards: Boat traffic. Occasional strong currents off the points to the southeast and northwest.