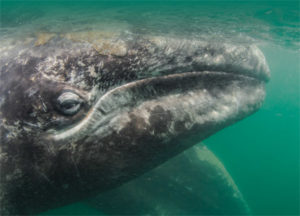 It's wintertime. And yes, despite the perception to the contrary we do experience winter in California, even along the coast in southern California. But even here, where our winters are usually relatively mild, the arrival of winter impacts the way a lot of us dive.
Some people dive less because water temperatures are cooler than in summer and fall, the surf is often higher swells are bigger, and the visibility can be reduced. But even if you are one that can be described as more hardcore, planning dives on your events calendar is more challenging, as our weather and water conditions are less predictable.
As a general rule, in California during summer and fall you can find a place to dive where the conditions will range between good and excellent.

Conditions are far less predictable in winter. But that does not mean they are never excellent. As a matter of fact, every winter we get windows during which diving conditions are superb. Almost every winter, at a number of places along the California coast some lucky divers find themselves swimming eyeball to eyeball with a California gray whale or witnessing a squad of common squid. With very few exceptions, these phenomena only occur in California waters in the winter and early spring. That's true for other wintertime diving wonders as well. California's wintertime diving can be exceptional.
All of this brings me to this month's feature article by Dale Sheckler, "A Shore Thing: Tips for Diving the California Shoreline." Dale is an avid beach diver, and he offers some excellent insight into beach diving techniques. I would like to add to Dale's comments by emphasizing the point that wintertime can be a great time to take advantage of the beach diving opportunities we enjoy in California. No one can predict when we will have those great beach diving conditions very far in advance. But you can usually get a "heads up" a few days ahead of time if you pay attention to the weather forecasts or monitor ocean conditions online.
I encourage you to keep your gear and your body in good diving shape, and a filled tank or two on hand so it is easy for you to organize and make a beach dive when conditions are favorable. Do that, and you just might find yourself swimming with a California gray whale or surrounded by a squad of squid this winter. Wouldn't that just make your day!