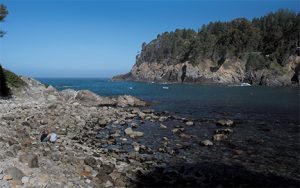 Ocean Cove is well protected from the northwest wind and swell and provides access to some of Sonoma County's best diving. A road runs from the campground to the beach, allowing easy access to the cove, and making this a very convenient place to launch inflatable boats and kayaks to explore areas further from the beach.
The bottom of Ocean Cove is mostly rock, sprinkled with boulders. Eelgrass covers much of the inshore rocks. In the old days many divers came here to catch abalone, but recent changes in the ocean condition have resulted in the closure of the abalone fishery. Yet, Ocean Cove still offers plenty of excitement for fishers and sightseers.
Beginner divers and snorkelers will find Ocean Cove a comfortable place to dive. The shallow, protected waters harbor a large number of young-of-the-year rockfish and other small bottom fish. The bottom is dotted with giant green anemones, chitons, and some sea stars. Unfortunately, there are way too many purple sea urchins here.
It is a long swim to deeper waters, so most diving here is done from small boats and kayaks. Just south of Ocean Cove is Cemetery Reef where spearfishers still find big lingcod. In addition to this named reef, there are a lot of mini-pinnacles and steep walls both north and south of the main cove. Divers will find many species of rockfish, including huge schools of blues and even reasonable numbers of rare rockfish, like the yelloweye. Fishers should check the fishing regulations and have an identification book or card with them, since it is not permitted to take some of these rockfish. In addition to gamefish, divers will find fields of white-plumbed anemones. Bring a depth finder so you will be able to find these pinnacles, since few have been marked with GPS.
Ocean Cove was the location of the Watermens Association first urchin removal event. On Memorial Day weekend 2018, 100 divers removed 56,000 purple sea urchins from the cove. This is a good first step to restore the health of the ocean that has been recently disrupted by an explosion of the urchin population.
The campground at Ocean Cove overlooks the ocean and cove, and many campsites have ocean views. Many are right near the steep bluff that surrounds the cove. Unzip your tent in the morning, smell the salt air, and gaze on the beautiful Sonoma coastline. The view is so good that you may want to extend your morning and simply enjoy the scenery. However, the diving is so good that you will feel compelled to suit up and jump in.
At-A-Glance
Skill Level: Beginner or better.
Location: Just south of Salt Point State Park in Sonoma County at Mile Marker SON 38.00.

Access: Enter at the Ocean Cove Store and pay usage fee.
Facilities: Good boat launch ramp, portable toilets, hot showers, store; fee for camping, boat launch and day use. Reservations are only accepted for group camping, 707-847-3422.
Entry and Exit: Enter off the concrete boat ramp. This is one of the most protected entries in Sonoma.
Depth range: 10 to 60 feet
Conditions: The conditions here are highly variable.
Visibility: 10 to 40 feet
Photography: Good photography for invertebrates and game fish.
Hunting: This is a good place to spearfish for rockfish, lingcod and cabezon. There are also rock scallops on the deeper, offshore reefs. Abalone may not be taken. North of Ocean Cove is the Salt Point State Marine Conservation Area where the take of finfish is permitted, but not invertebrates.
Cautions: Active boat launch, so watch for boat traffic.