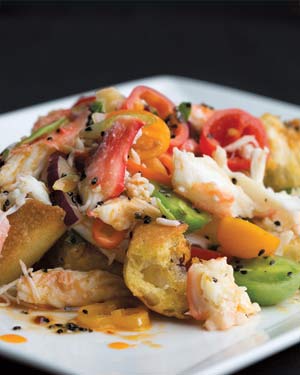 I love king crab and it's often on sale this time of year. This Tuscan-style panzanella recipe can be enjoyed as a main course, side dish or as an appetizer — it's a colorful dish that uses a few fresh ingredients and takes just minutes to prepare. This recipe calls for king crab but you can go crazy and top it with anything from grilled calico bass to broiled lobster chunks. Remember, "Always 'Stay Legal,' and never take more than you'll eat."
~ Trevor Cook, Scuba Chef
Yields 4 servings
Ingredients:
1 pound king crab, cooked, shelled and chilled
1 large fresh-baked ciabatta loaf,
torn into bite-sized chunks
24 multi-colored baby heirloom tomatoes,
sliced in half
8 multi-colored sweet mini bell peppers, sliced
½ medium red onion, quartered and sliced
¼ cup olive oil
¼ cup chili oil
Black sesame seeds for garnish
Sea salt to taste
Cracked pepper to taste
Directions:
Preheat oven to 325 degrees F. In a large bowl, toss chunks of bread with 1 tablespoon of olive oil, season with salt and pepper. Arrange on a baking pan and bake for 5 minutes or so, until lightly toasted; turn once if needed. You want the bread a little crisp on the outside yet still a bit chewy on the inside. When done, set aside to cool.
Once the bread is cool return it to a large bowl and add the tomato, onion, sweet peppers, remaining olive oil and season with salt and pepper. Gently fold all ingredients until evenly coated with oil.
Spoon an even amount of panzanella in large shallow bowls and top each with a heap of chilled king crab. Drizzle with chili oil and finish with a sprinkle of black sesame seeds.
Pairing Suggestions
Try a crisp, citrusy California white like the 2015 Mad Duck Sauvignon Blanc from Lodi.
King Crab STATS
Family: Lithodidae
Genus and Species: Paralithodes camtschaticus
Other Common Names: red king crab, Alaskan king crab.
Description: Red king crabs are very large, sometimes with bodies reaching nearly 12 inches with a leg span of nearly 6 feet. Although red king crabs are not "red" when caught they were named after the color they turn after they are cooked.
Range: Native to the Bering Sea and Alaskan waters ranging in temps from 30 – 50 degrees F. They prefer to spend their time in cooler waters in depths ranging from 66 feet to as deep as 165 feet.
Habitat: King crab spend most of their lives in cold deep waters in the sandy bottom and muddy areas in the substrate.
Fishing Information: Rated 1-Good by Seafood Watch, it's recommended you shop for king crab that is caught in a trap. Because the commercial season is so short and the demand for red king crab is global, king crab tends to be expensive but worth every penny.
Largest Recorded: The world record king crab tipped the scales at nearly 25 pounds.
CA Fish & Wildlife, Monterey Bay Aquarium