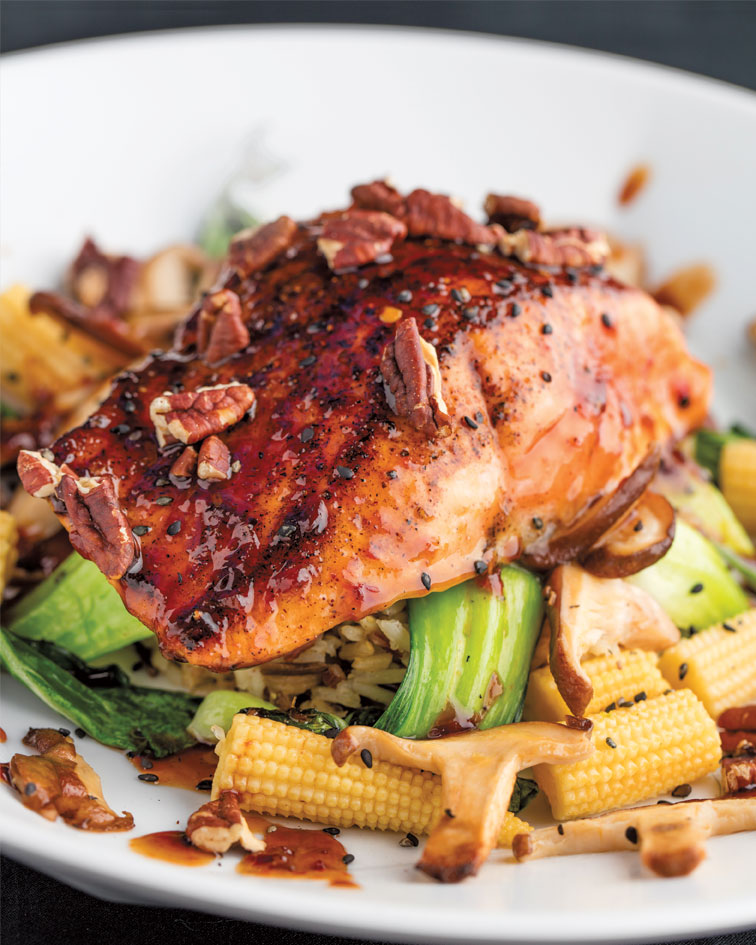 Honey-Glazed Chinook Salmon
When my own underwater hunt returns no bounty and there's a wild king salmon "run" on, I'll purchase fresh king salmon (also called Chinook) at a local fish market. It's rich in healthful Omega-3 oil and the tender, flaky meat offers a lot of flavor. Here we'll mix a few simple ingredients together for an Asian-inspired dish with a sweet and spicy flair.
Remember, "Always 'Stay Legal,' and never take more than you'll eat."
Ingredients
4 6-8

ounce

Chinook salmon filets

1

tsp.

unsalted butter

4-5

bunches baby bok choy

1

can baby corn

drained

8

ounces

shitake mushrooms

sliced

½

cup

pecans

toasted and chopped

1/2

cup

ponzu sauce

2

Tbs.

honey

1

Tbs.

prepared chili garlic sauce

½

Tbs.

low sodium soy sauce

¼

cup

white wine

Sea salt and cracked pepper to taste

Black sesame seeds for garnish
Instructions
Preheat oven to 350 degrees F. Season salmon with salt and pepper. In a sauté pan over medium heat, sear salmon filets for two to three minutes on each side; remove from heat and transfer salmon onto a baking tray or other oven-safe dish. Set the sauté pan aside for later use.

In a small saucepan over low heat combine the ponzu, honey, chili-garlic sauce and soy sauce. Bring to a simmer, stirring occasionally. Slightly reduce the sauce until it can coat the back of a spoon, about six to eight minutes.

Over medium-high heat, "deglaze" the sauté pan in which you cooked the salmon. Do this by adding the white wine and stirring for about a minute, being careful not to burn any leftover salmon bits remaining in the pan. Reduce heat and add the butter and all the vegetables, sauté until the bok choy is tender. While the vegetables are cooking, brush the salmon with the sweet chili glaze and heat in the oven for 5 minutes. This will set the glaze and finish cooking the salmon to medium doneness.

Plate with your favorite rice or potato, top with toasted chopped pecans a sprinkle of black sesame seeds for garnish.
Notes
Pairing Suggestions
Yeasty and fruity beers work well with this dish, as do citrusy American-style IPAs. Wine lovers might like a crisp Sauvignon blanc, or a light-bodied red, like a pinot noir.
Chinook Salmon Stats
Family: Salmonidae
Genus and Species: Oncorhynchus tshawytscha
Other Common Names: California Salmon, Wild Kind Salmon and Chinook.
Description: Chinook Salmon have a blue-green back with silver flanks and small black spots on both lobes of the tail, and a black pigment along the base of their teeth.
Range: Chinook salmon range from Alaska south to Southern California.
Habitat: Chinook salmon are "anadromous," meaning they are born in fresh water, spend most of their lives in the sea, and return to fresh water to spawn. Juveniles migrate downstream from freshwater estuaries to the ocean to grow and mature before "running" upstream as adults to spawn in freshwater streams.
Fishing Information: Rated as a "best choice" by the Monterey Bay Aquarium's Seafood Watch. Chinook salmon populations are healthy, and current management efforts are proving effective. Ask for line-caught Chinook rather than those harvested using gillnets. Visit the CA Fish & Wildlife website for fishing regulations.
Largest Recorded: The world record Chinook salmon was caught on rod and reel in May of 1985 and weighed in at 97 lbs. 4 oz.
Sources: CA Fish & Wildlife (wildlife.ca.gov) and Monterey Bay Aquarium (montereybayaquarium.org).