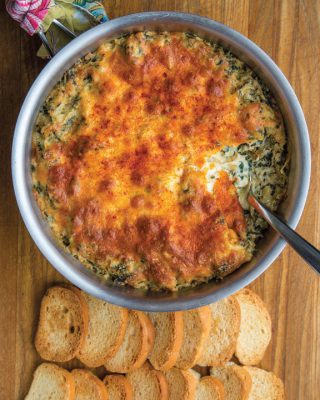 Classic Crab Dip
I love Dungeness crab found in our local waters, but every now and then I also like to create recipes using crabmeat from the East Coast's predominant species, the Atlantic blue crab. There are many variations of the classic crab dip appetizer often served at cocktail parties. I hope you'll enjoy my version, which features creamy Swiss and Parmesan cheeses, fresh herbs and cayenne pepper for a bit of heat.
Remember, "Always 'Stay Legal,' and never take more than you'll eat."
Ingredients
16

oz.

cream cheese

softened

1.5

lbs.

lump crabmeat

1 16-

ounce

can artichoke bottoms

drained and chopped

2

cups

baby spinach

loosely chopped

½

cup

sliced green onions

½

cup

grated Swiss cheese

¼

cup

shredded Parmesan cheese

¼

cup

mayonnaise

not low-fat

3

cloves

garlic

crushed and diced

2

tsp.

fresh thyme

chopped

1

tsp.

fresh oregano

chopped

1

tsp.

Worcestershire sauce

¼

tsp.

cayenne pepper or red chili flakes

Sea salt and white pepper to taste
Instructions
Preheat oven to 375 degrees F.

In a large bowl, combine main ingredients and gently fold together until well mixed. Season with salt and pepper. Coat the interior of a large casserole dish with butter and fill with crab dip mixture. Top with remaining Swiss and Parmesan cheese and sprinkle with smoked paprika. Bake uncovered for about 30 minutes, or until the top is golden brown and bubbly. Serve with your choice of toasted baguette slices, pita bread or even plain tortilla chips.
Notes
Pairing Suggestions
This dip pairs nicely with a California Riesling or your favorite sparkling wine.
Atlantic Blue Crab Info
Family: Portunidae
Genus and Species: Callinectes sapidus
Other Common Names: Chesapeake blue crab or Atlantic blue crab, or simply blue crab. The blue crab's scientific name translated from Latin means, "beautiful savory swimmer."
Description: Blue crabs are sexually dimorphic, meaning sexes occur in distinct forms. Males have blue claws and a narrow abdominal apron. Females have red-tipped claws ("painted fingernails") and a broad abdominal apron.
Habitat and Range: Found along the Atlantic coast from Nova Scotia to Argentina, it inhabits shallow sandy bottoms and sea grass beds. Blue crabs occupy a wide variety of habitats throughout their life history. Offshore, high-salinity waters are used during early larval stages. Larvae move into the estuary and use intertidal marshes, seagrass beds, and soft-sediment shorelines as they grow. Crabs are highly tolerant of temperature and salinity variations.
Fishing Information: Harvested commercially and recreationally, April through September. Recreational harvest is done using pots or nets. California residents will find Chesapeake blue crab in specialty seafood markets.