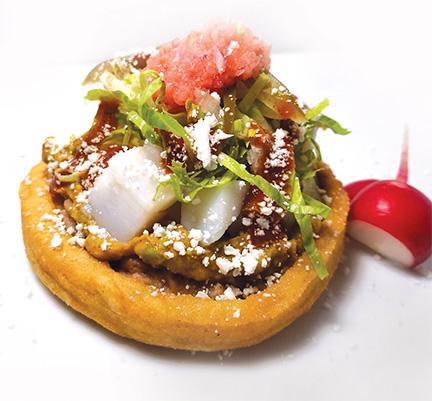 South-of-the-Border Scallop Sopes
I recently discovered a traditional Mexican dish called the sope, which originated in central and southern Mexico. Depending on the region, the sope is also called a picadita, pellizcada or garnacha. No matter what you call it, the sope is similar to a fried corn tortilla, only thicker, with a soft, pliable texture. This recipe calls for Pacific rock scallop, but you can top a sope with your favorite seafood, meats and veggies, so have fun experimenting.
Remember, "Always 'Stay Legal,' and never take more than you'll eat."
Ingredients
12

large Pacific rock scallops

1

12-count bag sopes

2

cups

peanut oil for frying

1

Tbs.

olive oil

2

large avocados

2

jalapeño peppers

1

can refried beans

1

cup

shredded lettuce

1

cup

crumbled cotija cheese

Fresh salsa for garnish

Salt and pepper to taste
Instructions
Heat the olive oil in a medium skillet over medium heat. Season the scallops with sea salt and pepper and pan sear for about a minute and a half on each side, turning carefully. Remove scallops to a plate and set aside.

In a medium high-sided skillet or frying pan, add the peanut oil and heat to 360 degrees F. Carefully lower sopes into hot oil and fry until golden, about 3-4 minutes on each side. Remove to a paper towel-lined plate. Repeat until all sopes are fried.

Heat the refried beans on the stovetop or microwave.

In a medium bowl, crush avocados and season with sea salt and freshly ground pepper. Remove seeds from the jalapeños and slice thin lengthwise.

To assemble, start by spreading a thin layer of refried beans onto each sope, followed by a thin layer of crushed avocado. Cut the scallops into quarters and anchored them into the layer of beans and avocado. Top with shredded lettuce, salsa, jalapeño slivers and a sprinkling of cotija cheese (found at Mexican markets or specialty cheese shops).
Notes
Pairing Pointers
Try a crisp Napa Valley Sauvignon Blanc or your favorite ice-cold Mexican lager like Dos Equis or Corona.
---
Pacific Rock Scallop Stats
Physical Description: The purple-hinged rock scallop is a locally common shellfish. It can be identified by its distinctive shell, typically having an irregular oval outline, and a tentacle-bearing mantle, usually orange or grey.
Genus and Species: Crassadoma gigantea
Common names: Rock scallop, giant rock scallop or purple-hinged rock scallop
Habitat: Adults typically are firmly attached to the substratum, in contrast to most other scallops that live free on the sand or mud bottom.
Range: Throughout its range from Sitka, Alaska, to Magdalena Bay, Baja California and Mexico, the rock scallop is generally found from the lower intertidal zone to depths as great as 100 feet.
Fishing information: The present bag limit is 10 scallops per diver with a valid California fishing license.
Source: CA Dept. of Fish and Wildlife, Monterey Bay Aquarium