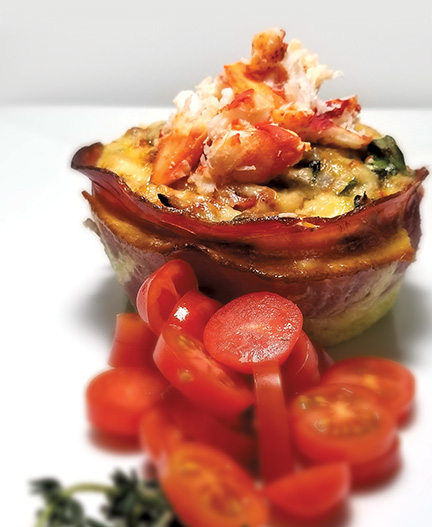 Lobster Quiche with a Prosciutto Crust
Here's a meaty twist on the traditional quiche recipe, replacing the pastry crust with prosciutto. This recipe calls for lobster meat, but you can easily prepare this dish with lump crabmeat, or any leftover cooked meat such as diced chicken or ham. This dish is delicious served hot or cold. Get creative and experiment with your favorite ingredients.
Remember, "Always 'Stay Legal,' and never take more than you'll eat."
Ingredients
1

pound

spiny lobster meat

cooked and diced

12

slices

prosciutto

8

eggs

1.5

cups

grated Gruyere cheese

½

cup

whole milk

¼

cup

sour cream

½

cup

spinach

chopped

¼

cup

red onion

diced

Sea salt and cracked pepper to taste
Instructions
Preheat oven to 350 degrees F.

Prepare six small ramekins or six wells of a large-cup muffin pan. Spray ramekins or muffin pan with nonstick spray and line each interior with two slices of prosciutto, allowing some of the prosciutto to overlap.

In a large bowl whisk eggs, milk, spinach and sour cream, season with sea salt and pepper. Fold in lobster meat, onion, spinach and 1 cup cheese, mix well.

Carefully spoon the egg mixture into each cup filling two-thirds of the way up, allowing room for the quiche to rise and expand as it cooks. Top each with a sprinkle of the remaining cheese and bake in oven on middle rack until slightly firm to the touch and golden brown on top, about 25-30 minutes. Remove from oven and allow to rest for a few minutes before carefully removing to a serving plate. Garnish with a bit of fresh tomato top and a bit of diced lobster.
Notes
Pairing Pointers
A crisp California Sauvignon Blanc with hints of citrus will pair nicely with Gruyere cheese and lobster alike. If you're serving this dish at brunch, you can't go wrong with a sparkling California brut.
---
Spiny Lobster STATS
Family: Spiny Lobster
Genus and Species: Panulirus interruptus
Other Common Names: California lobster, California marine crayfish, and red lobster
Description: In common with all spiny lobsters, the California spiny lobster has two large, spiny antennae, but no large claws on its legs. The California spiny lobster is one of the largest spiny lobster species, and grows up to about 24 inches long. The upper side of the animal is brownish red, without the paler bands or spots seen in some other spiny lobsters. The legs are a similar color, but with one or more lighter streaks running along their length.
Range: The California spiny lobster is found in parts of the Gulf of California, and along the Pacific coast of the length of the Baja California peninsula, extending as far north as San Luis Obispo Bay, California.
Habitat: Usually found among rocks at depths of up to 200 feet
Fishing Information: The California spiny lobster is the most economically important lobster on the American West Coast. Visit the CA Dept. of Fish and Wildlife website at wildlife.ca.gov for more information about lobster season.
Source: CA Dept of Fish and Wildlife, Monterey Bay Aquarium