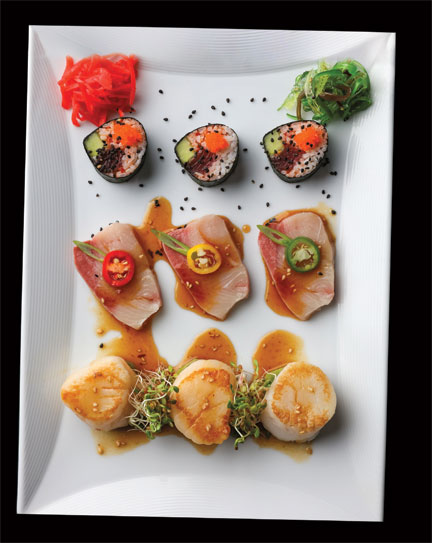 Kiwi'd Pacific Rock Scallops and Sushi
One of my favorite ways to enjoy Pacific rock scallops is to pair them with other treasures from the sea like yellowtail and ahi tuna for an amazing sushi trio. This month we'll take the rock scallop to another level as serve it on fresh Kiwi fruit with a drizzle of spicy chili ponzu vinaigrette.
Remember, "Always 'Stay Legal,' and never take more than you'll eat."
Ingredients
Ingredients
12

large Pacific rock scallops

1 1-

pound

yellowtail tuna filet

cut into strips or small pieces

1 1-

pound

tuna loin

cut into strips or small pieces

3

kiwifruit

peeled and sliced about ¼-inch or less

1

cup

uncooked sushi rice

1

Tbs.

extra virgin olive oil

¼

cup

approx. rice vinegar

½

cup

approx. chili garlic sauce

1

large English cucumber peeled

cut into thin sticks

1 4-

ounce

pack spicy radish sprouts

1 10-

sheet pack nori

seaweed sheets

1

each red

yellow and green chilies sliced into rings

5

green onions

cut on bias

1 6-

ounce

package seaweed salad

1 6-

ounce

pack pickled ginger

2

Tbs.

fish roe for garnish

optional

Toasted sesame seeds for garnish

1

bamboo sushi rolling mat

1

small bowl of water

to dip fingers in when rolling sushi
Chili Ponzu Vinaigrette Ingredients
1/3

cup

chili ponzu or regular ponzu

¼

cup

light sesame oil

¼

tsp

chili paste

A pinch or two of sugar as desired
Instructions
Chili Ponzu Vinaigrette: Blend all dressing ingredients except the oil. Once blended, add oil in a very thin drizzle a little at a time while whisking. Taste and adjust seasoning to your liking.

Prepare rice according to instructions on the package and once finished cool it as quickly as possible. I spread it onto a sheet pan and sprinkle it with a bit of rice vinegar and refrigerate it while I assemble the other ingredients.

Lightly season scallops with sea salt. Add olive oil to a sauté' pan and over medium to high heat, pan-sear scallops for about 30 seconds on each side. Transfer to a paper-towel lined plate and chill for about 10-15 minutes.

Rolling sushi is relatively easy. However, if you've never done it before I suggest you watch a quick YouTube tutorial to see how it's done.

Start by laying one sheet of nori on a bamboo rolling mat and gently press rice onto the nori using wet fingers so rice does not stick to you. Cover about half- to two-thirds of the nori with a thin layer of rice and then spread a light layer of chili garlic sauce over the rice. Top with a line of tuna and another of the cucumber sticks. Wet your finger and run it alongside the edge of the nori that doesn't have rice on it and then, using the sushi roller, roll from rice-side to non-rice side. Set aside to cut into bite-sized pieces later. Have fun experimenting, making rolls with your favorite ingredients.

Next, arrange kiwi slices on a plate and top each with a scallop. Drizzle a bit of chili ponzu vinaigrette over each scallop, garnish with a toasted sesame seeds or a bit of green onion and serve immediately.
Notes
Pairing Suggestions
I suggest California-brewed Ozeki sake. It's a premium sake made in California using only the finest locally grown rice and water from the Sierra Nevada Mountain range.
Rock Scallop STATS
Genus and Species: Crassadoma gigantea
Common names: Rock scallop, giant rock scallop or purple-hinged rock scallop.
Physical description: The rock scallop is a locally common shellfish. It can be identified by its distinctive shell, typically having an irregular oval outline, and a tentacle-bearing mantle, usually orange or grey.
Habitat: Adults typically are firmly attached to the substrate, in contrast to most other scallops that live free on the sand or mud bottom.
Range: Throughout its range from Sitka, Alaska, to Magdalena Bay, Baja Mexico, rock scallops are generally found from the lower intertidal zone to depths as great as 100 feet.
Fishing information: The present bag limit is 10 scallops per diver with a valid California fishing license. Visit dfg.ca.gov for details.
Source: CA Fish & Wildlife, Monterey Bay Aquarium