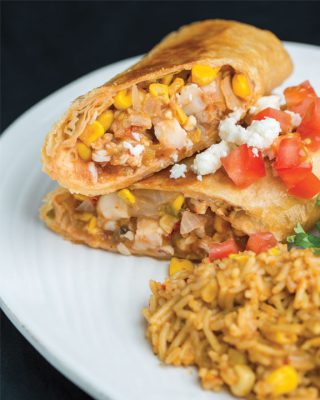 A "Happy Accident" - The Lobster Chimichanga
Sometimes mistakes turn out to be "happy accidents." Take the chimichanga, for instance. One of its origin stories is that many years ago the chef at an Arizona El Charro restaurant dropped a burrito in the deep fryer by accident; when he noticed his mistake he used the made-up swear word, "chimichanga." And we've been savoring his culinary mishap ever since. Since I still had some lobster tails in the freezer from last season's hunting, I intentionally put a seafood spin on the classic deep-fried recipe with my lobster chimi. Remember, "Always 'Stay Legal,' and never take more than you'll eat."
Ingredients
2 2

lb.

Lobsters tail meat removed and diced

12-14

ounces

sweet corn

cooked, drained

1

tsp.

unsalted butter

2

green jalapeño peppers

seeded and sliced thin

2

red jalapeño peppers

seeded and sliced thin

½

cup

chopped sweet Maui onion

1 7.75-

ounce

can El Pato brand Mexican tomato sauce

hot

4

large flour tortillas

1

ripe tomato

diced

1

ripe avocado

sliced

½

cup

Cotija Mexican-style cheese

for garnish

Cilantro leaves

for garnish

Peanut oil for frying
Instructions
Heat a large fry pan with at least 3" deep peanut oil to 360 degrees.

Start by heating a medium sauté pan over medium-high heat and add butter, diced onion and jalapeños. Cook for two to three minutes, and then add the El Pato sauce. Lower heat to simmer and allow sauce to reduce by half. Add corn and lobster and cook an additional three to four minutes. The mixture should be a bit thick, not runny. Remove from heat and allow to cool slightly.

Divide the lobster mixture into four equal portions on the flour tortillas and roll them up, burrito-style, making sure to fold the edges inward so no lobster mixture escapes.

To a large deep-sided frying pan, add about 2-3 inches of peanut oil. Heat oil to 360 degrees F.

Using a pair of long-handled tongs and/or a spatula, gently lower burritos into the hot oil and cook, turning once, until each tortilla is a deep golden brown. Garnish with diced tomato, Cotija cheese, avocado slices and cilantro. Enjoy immediately.
Notes
Pairing Suggestions
As with most spicy Mexican dishes, my go-to is an ice-cold Negra Modelo. Wine lovers will enjoy a sweet and sparkly pairing, such as a Moscato d' Asti or perhaps a dry rose'.
California Spiny Lobster Info
Family: Spiny Lobster
Genus and Species: Panulirus interruptus
Other Common Names: California lobster, California marine crayfish, and red lobster
Description: In common with all spiny lobsters, the California spiny lobster has two large, spiny antennae, but no large claws on its legs. The California spiny lobster is one of the largest spiny lobster species, and grows up to 24 inches long. The upper side of the animal is brownish red, without the paler bands or spots seen in some other spiny lobsters. The legs are a similar color, but with one or more lighter streaks running along their length.
Range: The California spiny lobster is found in parts of the Gulf of California, and along the Pacific coast of the length of the Baja California peninsula, extending as far north as San Luis Obispo Bay, California.
Habitat: Lives in crevices in the reef at depths of up to about 200 feet.
Fishing Information: Spiny lobster season starts October 1, 2016 and runs through March 22, 2017. On April 13, 2016, the California Fish and Game Commission (FGC) adopted the California Spiny Lobster Fishery Management Plan (FMP), which will go into effect in 2017. To view the FMP go to wildlife.ca.gov.