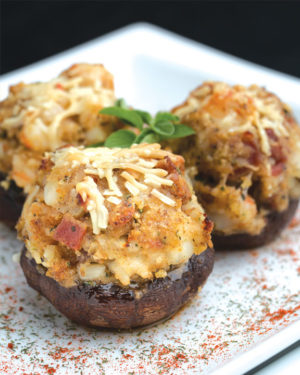 Savory Scallop-Stuffed Mushrooms
Two of my favorite foods are scallops and mushrooms. Here I bring them together in perfect harmony, paired with smoky bacon, Parmesan cheese and fresh, savory herbs. My scallop-stuffed mushrooms are perfect as an appetizer or when served with a fresh salad can be a light summertime meal.
Remember, "Always 'Stay Legal,' and never take more than you'll eat."
Ingredients
1

lb.

fresh rock scallops

diced

12

medium baby portabella mushrooms

with stems and gills removed

4-5

strips of thick-cut bacon

cooked and diced

1

cup

crushed garlic and herb croutons

½

cup

whole-egg mayonnaise

1

whole egg

whisked

¼

cup

chopped green onion

½

tsp

Worcestershire sauce

½

tsp

fresh thyme

chopped

¼

tsp

fresh oregano

chopped

Salt and pepper to taste

¼

stick butter

melted

½

cup

grated Parmesan cheese
Instructions
Preheat oven to 375 degrees F.

Start by removing the stems and gills from the mushrooms. To remove the gills, use a teaspoon to carefully scrape out the gills.

In a large bowl combine the rock scallops and all remaining ingredients except melted butter and Parmesan cheese and gently fold until well blended. Season with salt and pepper. The mixture should be slightly wet so it holds its shape when formed into a ball. Add more mayonnaise if needed to achieve the desired consistency.

Stuff each mushroom cap with a generous portion of filling. Arrange on a baking pan, brush with melted butter and top with a sprinkle of Parmesan cheese. Bake uncovered at 375 for about 15 to 20 minutes.
Notes
Pairing Suggestions
Scallops pair nicely with white wines including Chablis, dry Riesling and Bordeaux Blanc.
Rock Scallop INFO
Family: Pectinidae
Genus and species: Crassadoma gigantea
Common names: rock scallop, giant rock scallop or purple-hinged rock scallop.
Physical Description: The purple-hinged rock scallop is a locally common shellfish. It can be identified by its distinctive shell, typically having an irregular oval outline, and a tentacle-bearing mantle, usually orange or grey.
Habitat: Adults typically are firmly attached to the substratum, in contrast to most other scallops that live free on the sand or mud bottom.
Range: Commonly found as far north as Alaska's Aleutian Islands, to as far south as Baja, Mexico. Rock scallops inhabit the lower intertidal zone to depths as great as 100 feet.
Fishing information: The present bag limit is 10 scallops per diver with a valid California fishing license. For more info visit wildlife.ca.gov.