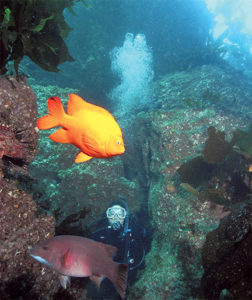 It was a strange sensation. It was like one minute we were diving the far reaches of the Northern Channel Islands, and the next, we were at Catalina Island. Water temperature had changed little but the marine life most certainly had. We were in the transition zone that often typifies diving Santa Cruz Island.
Transition zones are great places to dive. One of the best off California is in the Northern Channel Islands chain, and Santa Cruz Island seems to be the epicenter. In this zone colder northern waters mix with more temperate waters from the south. Marine creatures from each zone coexist, even thrive. Certain places around Santa Cruz Island — including the tiny cove at Quail Rock — seem especially diverse. 
Over on the far wall to the east of the rock was a carpet of invertebrate life typical to chillier waters. Macro photographers kept their cameras busy with tiny fringehead blennies and numerous nudibranchs. 
My buddy and I set our compasses and headed for the small wall at the base of the rock that gives the dive site its name. At 45 feet down the reef was covered in bryozoans. Here and there we noticed bright red rose anemones and a number of fat rockfish. A big lingcod leisurely moved aside, and we finned along on our compass course. Dotting the reef were leather and rainbow stars. All of this was what I might expect to see at Santa Rosa or San Miguel Islands in colder waters up the chain.
Then a garibaldi showed up, then another. Garibaldi are a more temperate water fish. Breaking into the kelp clearing I thought we were at Catalina! Garibaldi, señorita fish and blacksmith swirled about. The water was especially clear.
Around Quail Rock were a number of small caves and even a swim-through. Here and there were lobsters cowering in the crevices. The kelp was thick and lush in the shallow waters. Wide-angle photography was delightful in sun streaming through the kelp canopy with sheephead, opaleye and rock wrasse moving about.
Since 2012 this has been part of the California Marine Protected Areas (MPA). This block is known as the Painted Cave State Marine Conservation Area. Only the hunting of lobster and pelagic finfish is allowed. All else is protected. It is nice to see the bottom fish population expanding in number, variety and size. And they are friendly!
There are a number of similar coves along the front side of the west end of Santa Cruz Island. Most of them also have delightful sea caves carved into the cliff faces. All of the coves have this delightful mix of marine life from both cold water and temperate water zones. Take the time to explore several, especially Quail Rock.
AT-A-GLANCE

Skill Level: All
Location: East of Painted Cave on the front side (side facing the mainland) of west end of Santa Cruz Island. GPS coordinates N34°04.066, W119°50.969
Access: Boat only
Entry and Exit: Easy
Depths: 15-45 feet
Visibility: Varies (typical to transition zones) but generally good averages 30 feet of usually green water.
Conditions: This is usually a calm cove and somewhat protected. Current generally not a problem.
Photography: Very good for both macro for small and medium reef fish and nudibranchs. Wide angle good for larger reef fish, near mini-walls and up in the kelp forest.
Hunting: Part of the Painted Cave State Marine Conservation Area. Only lobster and pelagic finfish may be taken. Fair for lobster.