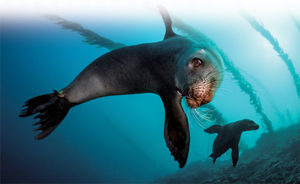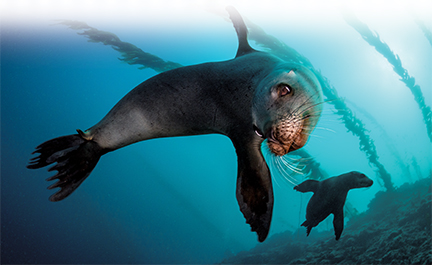 It's not unusual for beachgoers to see California sea lions stranding this time of year as one-year-old animals wean from their mothers and strike out on their own in search of food. But the increased number of starving young sea lions is of particular concern given what National Marine Fisheries Service observers, including animal care specialists from the Marine Mammal Center, saw during a recent assessment of the population.
Dramatic influxes of starving young sea lions in the past have been driven by intense swings in ocean conditions such as those observed during the El Niño Southern Oscillation and the "the Blob" of 2015. 
This year's El Niño conditions are not nearly as extreme as seen previously, but experts say even weak patterns have potential to tip the ocean off-kilter, especially when compounded by the effects of warming waters worldwide, which has made the ocean environment increasingly unpredictable.
Domoic Acid Outbreak
It's not only young and malnourished sea lions that are being affected by these changing ocean conditions. Dozens of adult and sub-adult California sea lions have stranded over the last few weeks displaying neurological abnormalities and seizures, reliable signs of domoic acid poisoning.
"We're still in the thick of this outbreak, and we may continue to see the impacts of this bloom for months to come," says Dr. Cara Field, Staff Veterinarian at The Marine Mammal Center in Sausalito. 
Domoic acid is a neurotoxin produced by certain algae during harmful algae blooms (sometimes known as "red tides"). The severity and production of blooms is complex, but often changes with water temperature and available nutrients. This neurotoxin accumulates over time in small fish, which are then eaten by sea lions and other marine animals in large quantities. Exposure to the toxin causes sea lions to become lethargic, disoriented and have seizures similar to epilepsy in humans.
Humans who eat seafood contaminated with domoic acid can also experience a life-threatening condition known as amnesic shellfish poisoning as well as gastrointestinal upset. 
Experts report toxic algal blooms are active in several counties and the California Department of Public Health has issued a shellfish safety notification for mussels, clams and scallops. To obtain the most accurate information on shellfish advisories and quarantines, phone the California Department of Public Health's toll-free Shellfish Information Hotline at (800) 553-4133 or visit cdph.ca.gov.

Though most of the sick sea lions rescued to date have come from the beaches of San Luis Obispo County, recently other counties have started to see sea lions displaying these concerning symptoms.
Out in the wild, domoic acid will naturally leave an animal's system over time, but sea lions repeatedly exposed to the toxin will suffer longer-lasting and more serious effects including permanent brain damage. 
source: marinemammalcenter.org
Marine Mammal Encounters
The Marine Mammal Center reminds beachgoers and visitors to keep these three tips in mind when enjoying the beauty of the California coastline:
Remain at a safe distance. Whether on the water viewing marine life in a kayak or seal pups on local beaches, a great wildlife viewing experience starts with keeping your distance.
Use your zoom. It's ok to take photos and admire the animals, but if you're so close that you're not using your zoom or they're reacting to you, then you're too close. 
Report a seal in distress. If you see a seal in distress, call The Marine Mammal Center's 24-hour rescue hotline at 415-289-SEAL (7325). After your call is placed, the Center will monitor the pup for 24 hours or more depending on the situation, and if necessary, trained volunteers and staff will rescue it safely.
For more information, visit marinemammalcenter.org.