By Cathryn Castle
Human beings are tribal by nature. We tend to seek the company of people with whom we share common bonds. Whether we're connected through a common language or philosophy or passion, we experience a sense of comfort and ease when we're with "our tribe." For some folks, it's mountain climbing or stamp collecting, but for us, it's getting out on — and under — the water as scuba divers. When we see that little red and white dive flag bumper sticker on the back of a car, we immediately identify a fellow tribe member, a kindred spirit of scuba diving.
The Scuba Show is the largest consumer dive event in the country  — a place where you can expect to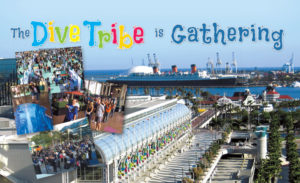 see a sea of dive flags — along with every other cool dive-related thing you can imagine. And a few unexpected things, too. There are a lot of reasons why you'll want to make your way to the Long Beach Convention Center the first weekend in June.
For example:
We share the same passion. Divers are an adventuresome bunch. We use diving to unplug from our daily routines and immerse ourselves in nature. Whether we're new to the sport or we're hardcore divers with thousands of logged dives, it feels good to connect with other like-minded folks who understand how great it feels to get out and explore the underwater world.
It's a gateway for new divers. Okay, so maybe you're the only diver in your family, within your circle of friends, or at work. When you talk about your weekend adventure of putting a bunch of gear on and jumping off a perfectly seaworthy boat several miles from shore, or charging through the surf to reach a kelp forest, chances are some of your friends and loved ones might think you're a little looney. When you invite them to attend the Scuba Show with you, they'll see you're not the only nut. And when in the company of all these divers and all this dive stuff, maybe they'll decide to give it a try.
There's lots of really cool stuff. Divers will be drooling over the latest and greatest in new gear and accessories. All the major equipment manufacturers will have their top people there to show their newest "toys." You'll be up to speed on the latest products and offerings. There's also plenty for nondivers (or not-yet-divers) to enjoy, such as jewelry, art, apparel, seminars, seafood cooking demonstration, the continuous film festival, and just the passion of the sport.
You'll meet the locals. Attending the Scuba Show will put you in touch with local dive charter operators, provide information on a variety of area beach diving locations, and give you the scoop on diver-friendly vacation rentals. You can find out about dive clubs that hold meetings in your area, too. And maybe find a new dive buddy or two in the process.
You can plan that dream trip to a tropical destination. Practically every major diving destination in the world is represented at the show. You'll meet resort and dive center operators, live-aboard boat owners and crew, tourism bureau reps who can give you the straight scoop on planning your next exotic dive trip, and dive travel agents who can put it all together for you. (Insider tip: some places even offer special "show only" discounts on vacation packages.)
The continuous film festival will entertain. And inspire. Amateurs and pros alike submit their best underwater imagery, which plays continuously on a giant screen in the exhibit hall. The film festival will get you thinking about the kind of diving you'd like to dive next, and for nondivers and kids, it'll offer a window in the underwater world that will likely spark their desire to give diving a try.

You'll learn a thing or two. Seminars and workshops on a wide range of environmental, marine-themed, and scuba-centric topics are offered on Friday and both days of the show. This is your chance to learn from and meet some of the greatest minds involved in ocean conservation, scuba training, underwater photography and film, dive travel, marine science, history, adventure and more. To see a full listing of seminars, go to scubashow.com/attendees/seminars.
You could win big. At this year's Scuba Show a record $40,000 in prizes will be given away. Prizes will be awarded throughout the show. And we're not talking t-shirts here, but big-ticket items like dive gear and accessories and trips around the world. Check the web site for the door prize drawing schedule.
You get to participate. Along with roaming the aisles of the show (which, by the way, takes up 76,000 square feet of scuba stuff), you can unleash your inner artist by joining an interactive painting project that raises money for local charities, or just get goofy at the photo stations — your Facebook friends will love seeing a photo of you in a shark cage or teetering on the edge of an undersea abyss, right? You can also attend a seafood cooking demonstration and ask Scuba Chef Trevor Cook for tips on preparing your favorite seafood.
There's a party going on. And it's free. It's happening on Saturday night, under the stars in the Shark Lagoon exhibit at the nearby Aquarium of the Pacific. You can hang out with 800 of your diver friends and also interact with sharks and crabs and such in the aquarium's touch pools. There'll be a silent auction and raffle with great prizes that raise funds for the non-profit efforts of the aquarium, and you'll also get to meet this year's recipient of the California Scuba Service Award, the first lady of diving, Zale Parry. Also meet Miss California 2014 who is newly crowned Miss Scuba Queen USA, Marina Inserra.
And this year you can "get on the bus" – the virtual reality bus exhibit that is specially designed to provide attendees a 360 degree diving experience that will excite divers, and allow soon-to-be divers to experience diving without getting wet. It is an exciting scuba adventure.
And finally, you get to mingle in the special atmosphere of old and new friends, and the people who make the diving industry work. They are passionate and love to share it with you.
And in the end, we want you to return to your local dive community, the retailers and dive clubs who make it happen for you, excited about what's next.
So there you have it. There are lots of reasons why the Scuba Show is the place to be, the first weekend in June, at the beautiful Long Beach Convention Center. For more info, go to ScubaShow.com.
I'll see you there.