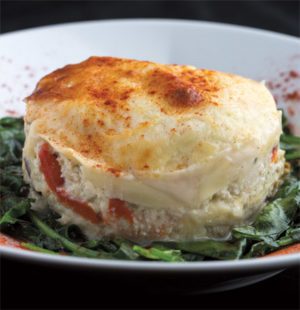 Three-Layer Lobster Lasagna
Every lobster season I get asked the same question, "What's your favorite way to cook lobster?" So every season I try to come up with new and tasty ways to cook fresh local lobster. This light, creamy lobster lasagna has become one of my faves — and my friends all rave about it. And it's so easy to prepare.
"Remember, "Always 'Stay Legal,' and never take more than you'll eat."
Ingredients
2-3

lb.

lobster tail meat cut into chunks

lightly sautéed in 2 tsp. olive oil

4

cloves

garlic

chopped

1

box Barilla oven-ready lasagna sheets

3

cups

shredded mozzarella cheese

2 15-

oz

tubs ricotta cheese

2 16-

oz

jars Classico Di Parma Alfredo pasta sauce

1

cup

shredded Parmigiano-Reggiano cheese

2

whole eggs

whisked

2

lbs.

fresh baby spinach

¼

cup

fresh basil chopped

1

tsp.

thyme

1

tsp.

rosemary

Sea salt and pepper to taste

4

tsp.

olive oil
Instructions
Preheat oven to 375 degrees F.

In a large bowl fold together the cooked lobster chunks, chopped garlic, 1 cup mozzarella cheese, and both tubs of ricotta, Parmigiano-Reggiano cheese, 2 eggs, basil, thyme and rosemary. Season with salt and pepper. Coat the bottom of a large, 3-inch deep roasting pan with about 11/2 cups of the Alfredo sauce and top with one layer of pasta sheets. Spoon in an even layer of the lobster cheese mixture (about ½-inch thick), sprinkle with both mozzarella and Parmesan cheeses and ½ cup sauce. Repeat these steps twice for a three-layer lobster lasagna. Top with remaining sauce and all cheeses and bake covered for one hour. Remove cover and continue to bake until cheese is golden, about 20-30 minutes. Remove from oven and allow to rest for at least 15 minutes before serving.

Sauté spinach in 2 tsp. olive oil and divide into equal portions onto dinner plates, top with a generous serving of lasagna. Serve with warm garlic bread.
Notes
Pairing Suggestions
Any white or red wine pairs well with this dish. I suggest a crisp dry white or a Cabernet with notes of black fruit and dark chocolate. One of the best wines I've had recently is Sanini Pear Black 2012 from Sonoma.
Lobster Info
Family: Spiny Lobster
Genus and Species: Panulirus interruptus
Other Common Names: California lobster, California marine crayfish, and red lobster
Hunting: Please visit wildlife.ca.gov for a complete and current list of rules and regulations as they change regularly and it's up to you to know before you go.