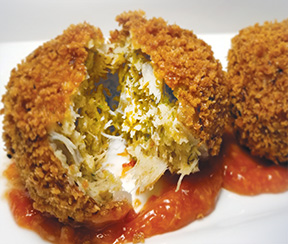 Savory Seafood Croquettes
This simple recipe for seafood croquettes – from the French word croquer, meaning, "to crunch" are perfect as an appetizer, side dish or even a main course. You can use any cooked fish or shellfish, including canned tuna and salmon, or crabmeat. These croquettes are light, savory and indeed, crunchy.
Remember, "Always 'Stay Legal,' and never take more than you'll eat."
Ingredients
8

ounces

Cooked Seafood

(If using canned seafood, drain well)

1/4

cup

Onion

Minced

1

Large Clove of Glarlic

Minced

1

tbsp

Butter

1/2

tsp

Old Bay Seasoning

1/4

tsp

Kosher Salt

1/4

tsp

Cracked Pepper

2

Large Eggs

1

cup

Panko Breadcrumbs

4

cups

Peanut Oil

for frying

Lemon Wedges and Parsley

for garnish, if desired
Instructions
Make the Croquettes
In a medium sauté pan over medium heat, melt the butter; add the minced onion and garlic and sauté for a few minutes until translucent. Remove from pan and set aside to cool.

In a large bowl mix cooked fish or shellfish of your choice with 1 egg, Old Bay and ½ cup of the panko.

Once cooled, fold in the cooked onion and garlic. Blend well and divide into eight balls of equal size, chill for about an hour.

Mix remaining egg with one tablespoon water.

In a medium bowl blend the remaining panko with salt.

Carefully roll each ball in egg mixture to coat then place in panko and coat, repeat until all croquettes are breaded.
Fry the Croquettes
In a deep, heavy-bottom frying pan, heat the oil to 350 degrees F. Carefully place croquettes into the oil and cook for about 4-5 minutes, turning and rolling, until they appear golden brown. Remove from oil onto a paper towel-lined plate and let cool for several minutes before serving.

Serve with cocktail sauce or tartar sauce.
Notes
Pairing Pointers
Try a crisp, citrusy Russian River Sauvignon Blanc, like double-gold medal winners from Bogle Vineyards (2013) and Angeline Vineyards (2014). Both were cold-fermented in stainless steel tanks.
SPINY LOBSTER STATS
Family: Spiny Lobster
Genus and Species: Panulirus interruptus
Other Common Names: California lobster, California marine crayfish, red lobster
Description: In common with all spiny lobsters, the California spiny lobster has two large, spiny antennae, but no large claws on its legs. The California spiny lobster is one of the largest spiny lobster species, and grows up to 24 inches long. The upper side of the animal is brownish red, without the paler bands or spots seen in some other spiny lobsters. The legs are a similar color, but with one or more lighter streaks running along their length.
Range: The California spiny lobster is found in parts of the Gulf of California, and along the Pacific coast of the length of the Baja California peninsula, extending as far north as San Luis Obispo Bay, California.
Habitat: In crevices and rocky areas at depths of around 200 feet.
Fishing Information: California spiny lobster season is currently closed until October. For fishing regulations and licensing information on all California fish and wildlife, please consult the CA Dept. of Fish and Wildlife website, wildlife.ca.gov.