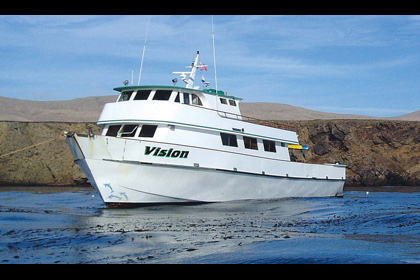 Dive Boat Details
301 West Cabrillo Blvd.
Santa Barbara, CA 93101
805-962-1127
---
As the flagship vessel of Truth Aquatics, the 80' Vision is the largest, fastest, and most spacious boat in the liveaboard fleet. With numerous amenities and comforts, including a fresh water maker, spacious bunkroom, and increased fuel capacity, the Vision is ideal for long range or extended stay trips. From the Big Sur coastline to Cortez Banks, the Vision is prepared to embark on nearly any charter voyage you can dream of.
Date launched
1985
Where built
Oxnard, California
Length
80'-0"(weather deck)
Length overall (LOA)
88'-0"
Beam
26'-0"
Bunk Capacity
46 people maximum, 13 double bunks, 20 single bunks.
Type of Bunk facility
Open berthing with pillows, blankets, curtains, and reading lights. Dressing room located in bunkroom.
Mains engines
Detroit Diesel 60 Series @ 550 HP each
Generators
Northern Lights MP55C, 55 KW, 220/110 Volt
Isusu 36 KW, 220/110 Volt
Cruising speed
10 Knots
Fuel Capacity
2000 Gallons
Range
1100 Nautical miles
Electronics
46 mile radar, VHF Radio, Single Sideband Radio, Video depth finder, Digital depth finder, GPS, Offshore Navigator Computer Program, , Underwater Recall, Dive tracker™
Heads
3
Showers
4 (2 on deck, 2 below deck) , fresh hot water
Water capacity
1830 gallons. 600 GPD water maker.
Galley
Outfitted with all appliances necessary for food preparation and is waterproof for divers in wetsuits. Onboard built-in Barbeque.
Galley seating
Cushioned and separate chairs.
Sundeck
Large upper deck area provides seating and pads for sunbathing.
Lifesaving
Rafts and Jackets for 110 passengers.
First Aid
Full first aid kit, O2 bottles, Auto Defibulator, Certified Crew.
Safety
EPIRB (emergency position indicating radio beacon)
Fixed CO2 engine room fire suppression system
Compressors
Ingersoll-Rand 10T-2@18 C.F.M.
Ingersoll-Rand 15T-4@21 C.F.M.
Capable of filling to 3500 P.S.I.
Live Game Wells
Built in in transom for game storage.
Gear Storage
Kayak rack for storing kayaks, paddleboards, and surfboards off the deck.
Stern Compartment
Used for Wetsuit Drying Room, Game Freezing, Clothes Dryer
Exits
Port, Starboard, and Bow exits for easy water entry. Mask rinsers at each exit.
Chase Boat
16 foot Caribe with 40 HP Honda 4-stroke outboard.
Water Boarding

State of the art ramp at stern for easy boarding

Click and drag down to lower the swim step

Dive area
All offshore Islands of Southern California. Primary destination of Anacapa, Santa Cruz, Santa Rosa, San Miguel Islands. Other Islands visited are Catalina, Santa Barbara, San Clemente, San Nicolas, and Cortez Banks.
Cost
Individual prices vary depending on charteree. All multi day trips include all meals, snacks, beverages (excluding alcoholic), and air refills
Owner
Glen Fritzler, Truth Aquatics Inc.
Address
301 West Cabrillo Blvd
Santa Barbara, CA 93101-3886 USA
Phone
805-962-1127 or 805-963-3564
Fax
805-564-6754
Web
www.truthaquatics.com
E-mail
info@truthaquatics.com
Calendar
Vessel operates year-round. Check our calendar or call 805-962-1127