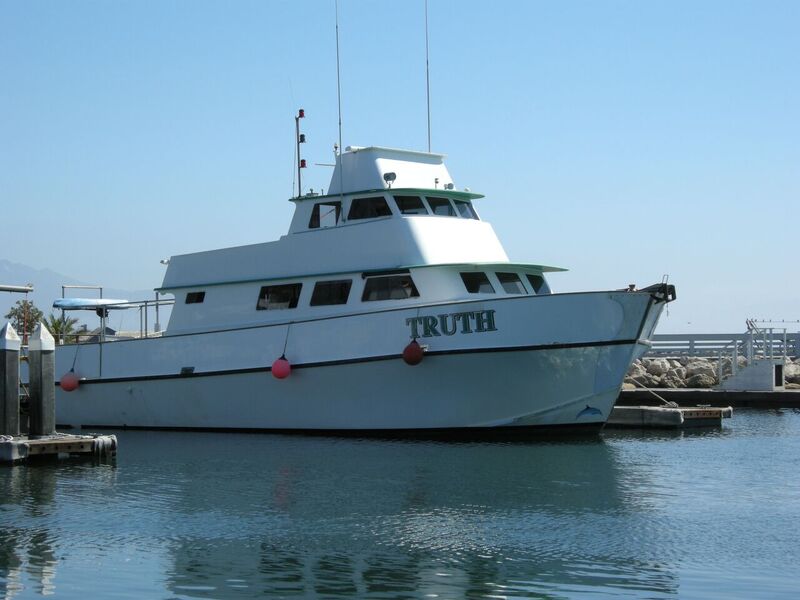 Dive Boat Details
301 W. Cabrillo Blvd.
Santa Barbara, CA 93101
805-962-1127
---
The Truth is the original Truth Aquatics boat, and thanks to regular updates and maintenance it remains a world-class liveaboard diving and excursion vessel. Its reduced rates compared to the rest of the fleet make it an ideal entry level boat for smaller charters and groups of friends. The versatile Truth is equally at home running to San Miguel for spear fishing excursions as it is spending lazy days with kayakers at Painted Cave.
Length
65'-0"(weather deck)
Length overall (LOA)
69'-0"
Beam
22'-0"
Bunk Capacity
45 people maximum, 12 double bunks, 20 single bunks.
Type of Bunk facility
Open berthing with pillows, blankets, curtains, and reading lights. Dressing room located in bunkroom.
Mains engines
Detroit Diesel 8V92 Turbo DDEC @ 550 HP each
Generators
Northern Lights MP55C, 55 KW, 220/110 Volt
Cruising speed
10 Knots
Fuel Capacity
1000 Gallons
Range
550 Nautical miles
Electronics
46 mile radar, VHF Radio, Single Sideband Radio, Video depth finder, Digital depth finder, GPS, Offshore Navigator Computer Program, Underwater Recall, Dive tracker™
Heads
2
Showers
3 (1 on deck, 2 below deck) , fresh hot water
Water capacity
1050 gallons
Galley
Outfitted with all appliances necessary for food preparation and is waterproof for divers in wetsuits. Onboard built-in Barbeque.
Galley seating
Cushioned and separate chairs.
Sundeck
Large upper deck area provides seating and pads for sunbathing.
Lifesaving
Rafts and Jackets for 49 passengers.
First Aid
Full first aid kit, O2 bottles, Auto Defibulator, Certified Crew.
Safety
EPIRB (emergency position indicating radio beacon)
Fixed CO2 engine room fire suppression system
Compressors
Ingersoll-Rand 10T-2@18 C.F.M.
Ingersoll-Rand 15T-4@21 C.F.M.
Capable of filling to 3500 P.S.I.
Live Game Wells
Built in in transom for game storage.
Gear Storage
Kayak rack for storing kayaks, paddleboards, and surfboards off the deck.
Stern Compartment
Used for Wetsuit Drying Room, Game Freezing, Clothes Dryer
Exits
Port, Starboard, and Bow exits for easy water entry. Mask rinsers at each exit.
Chase Boat
16 foot Caribe with 40 HP Honda 4-stroke outboard.
Water Boarding
State of the art ramp at stern for easy boarding
Dive area
All offshore Islands of Southern California. Primary destination of Anacapa, Santa Cruz, Santa Rosa, San Miguel Islands. Other Islands visited are Catalina, Santa Barbara, San Clemente, San Nicolas, and Cortez Banks.
Cost
Individual prices vary depending on charteree. All multi day trips include all meals, snacks, beverages (excluding alcoholic), and air refills
Owner
Glen Fritzler, Truth Aquatics Inc.
Address
301 West Cabrillo Blvd
Santa Barbara, CA 93101-3886 USA
Phone
805-962-1127 or 805-963-3564
Fax
805-564-6754
Web
www.truthaquatics.com
E-mail
info@truthaquatics.com
Calendar
Vessel operates year-round. Check our calendar or call 805-962-1127
We recommend that you use the bunk diagrams for assigning bunks to your passengers. You may also want to consider that only paid reservations will insure individuals a reserved bunk. Pillows, blankets, curtains, reading lights and storage for personal belongings are provided.
A printable version is available here. The bunk diagram can either be brought to the boat, or it can be faxed to 805-564-6754 and be placed on the boat for you.