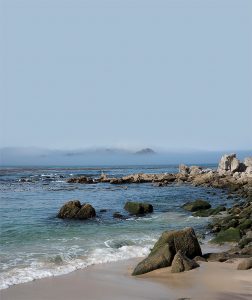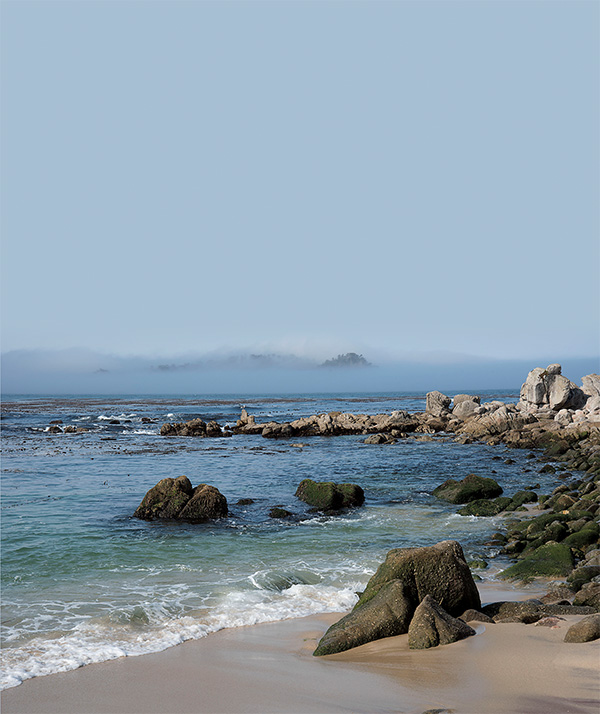 The early Spanish explorers put many of the names on the map, and this spot is no exception. Our Lady of Mount Carmel was the patroness of priests who accompanied the explorer, Sebastian Vizcaíno, in 1602. He named a number of places Carmel in honor of his priests. This beach is found just south of Carmel-by-the-Sea, and is popular with beach lovers and a few intrepid divers.
My favorite way to dive this site is to enter at the far west end of the beach, near the rocks and kelp bed. I then swim along the outer edge of the kelp for as long as I feel comfortable. For a leisurely dive, I drop down to about 20 feet and enjoy the critters in the very thick and healthy kelp bed. On days when I'm feeling more adventurous, I swim a bit farther, head west along the edge of the kelp, and drop down to the more interesting 40 to 50-foot bottom.
The bottom at Carmel River Beach drops off in a series of steps, one from 20 to 30 feet, another from 30 to 40 feet. The bottom then gently slopes out to better than 60 feet, but it's a long swim to get to 60 feet. The area shallower than 30 feet is one of the healthiest kelp beds I have seen in some time. It is predictably too thick to swim through during summer and fall, so plan your air to navigate underneath the surface kelp. In past seasons this bed was composed only of giant kelp, but in recent years there has been a fair amount of bull kelp as well. In these times when many of us are talking about urchins and a noticeable lack of kelp, we found very few urchins and lots of kelp here. The thick kelp bed was simply a joy to behold.
The bottom underneath the kelp consists of a patch reef full of huge boulders and small pinnacles. The rocks are covered mostly with kelp holdfasts, coralline algae and a few sponges. This area has a few small fish, some shrimp, hermit crabs, and a few yellow nudibranchs.
The bottom beyond the kelp bed is one of the most interesting in all of California. Here the rock structure is very dramatic with a huge number of large rocks and small pinnacles that jut up 10 or more feet from the 50-foot bottom. There are so many of these pinnacles and they are so close together that the experience is like flying through an underwater city. These rocks mostly have vertical sides, and provide a large number of mini walls for divers to explore.

The rocks are covered with a lot of invertebrates — strawberry and fish-eating anemones, bryozoans, and sponges. The variety of colorful sponges found here is particularly dramatic. Some rocks have large patches of yellow, others orange, still others red, blue or purple. If you are lucky you can photograph many differently colored sponges growing together. A large variety of tunicates may also be found in deeper water. Some of these are stalked, some are encrusting, but all are interesting — if you are into tunicates, that is. We also found a small school of surf perch and a few rockfish.
In past years the kelp bed extended out into this deep reef, but no longer. However, there were very few urchins to be found. On the other hand, this was once one of the better spots to spearfish in Carmel Bay, but on a recent dive neither my buddy and I, nor other dive teams saw any fish worth shooting.
This site is all about enjoying the dramatic bottom topography, healthy kelp, and encrusting invertebrates. If you are looking to avoid the crowds and enjoy rugged rock formations this is your site.
At-A-Glance
Skill Level: Intermediate or better
Location: At the intersection of Scenic Road and Ocean View Avenue in Carmel
Access: Drive west on Rio Road from Hwy. 1, turn left on Santa Lucia, and make a left on Scenic Road. Make a left on Ocean View Avenue, and find legal parking near the intersection. The beach is a short walk down a staircase. Boats may be launched from the public ramps at the Monterey Breakwater or between Fisherman's Wharf and Wharf #2.
Facilities: Limited parking, but no other facilities.
Entry and Exit: Enter and exit at the very north end of the beach. Kayaks may be launched here, but not boats.
Depth Range: 20 to 60 feet.
Conditions: Highly variable.
Visibility: Generally good, 20 to 40 feet.
Photography: Great macro and wide-angle.
Hunting: This site is within the Carmel Bay State Marine Conservation Area, and all invertebrates are protected. Hunting for finfish is permitted, but we found very few fish worth shooting on a recent dive.
Cautions: Watch for surge and surf. Look for very thick kelp in summer and fall. Avoid entering in the center of the beach due to the greater wave action there.
While most of Monterey's beach dive sites offer plenty of parking and a great variety of facilities, most of Carmel's beach dive sites have precious little parking and no facilities at all. Carmel's sites, however, do offer a greater opportunity for adventure and that "get away from it all" feeling. One spot to avoid the crowds is Carmel River State Beach.