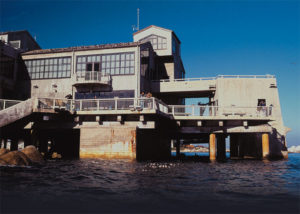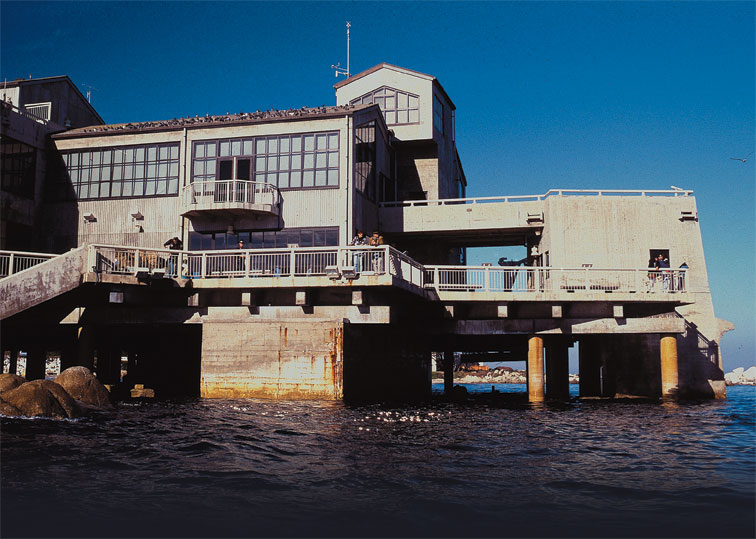 When the Monterey Bay Aquarium opened its doors in 1984 it would have been difficult to predict just how much this institution would change the face of Monterey. In a few short years Monterey went from a sleepy fishing and vacation community to a major tourist destination that attracts visitors from throughout the country and internationally. Its large and small tanks are a monument to the marine life of the Monterey Bay, and numerous scientific studies are conducted here, aimed at protecting our oceans.
The aquarium maintains around 100 individual tanks, including two enormous ones. The Kelp Forest exhibit contains 333,000 gallons and the Open Sea galleries a whopping 1,200,000 gallons of seawater. These tanks need to be continuously flushed with ocean water.
There are two intake pipes running from about 300 yards offshore of the aquarium leading into the facility. They supply approximately 2,000 gallons per minute of seawater to the exhibits. During business hours the water is filtered to give visitors a good view of the marine life. After hours it is pumped unfiltered to provide plankton to the aquarium's critters. The pipes terminate in about 50 feet of water. Each pipe has a 90-degree vertical bend on the end and the pipes are fitted with large metal-mesh filters to prevent anything larger than plankton from entering.
The pipes are clearly marked by two yellow buoys. Divers should not attempt to tie off to the buoys, or anchor near or inshore of them, to prevent damage to the pipes and filters and to prevent entanglement due to improper anchoring. The safe bet is to anchor 100 feet or more to the south of the buoys.
The bottom offshore of the intake pipes is mostly sand at around 60 feet deep. The filters themselves are near the edge of a gently sloping rocky reef at about 50 feet. The best diving is just inshore of the filters.
The rocks here are not covered with a thick growth of colorful strawberry anemones and sponges as are many of Monterey's other inshore reefs, but are sort of plain. There are a number of large anemones found at the base of the rocks where the rock meets the sand. These are white-spotted rose and fish-eating anemones. While these anemones do feed on a variety of fishes, they'll also snatch up any invertebrates the current brings their way. They are fascinating to watch when feeding.
The jumble of large boulders creates many deep cracks, where most of the interesting life can be found. In one relatively small crack I found several four- to five-inch abalone. Both divers and sea otters prize these tasty mollusks. The crack was just small enough that otters would find it difficult to fish one out, and divers south of San Francisco may not take abalone. So, these abalones will be quite safe until they outgrow their crack and have to find another. It is good to see a number of abalone in one crack. Since they are broadcast spawners, the presence of so many in one crack means they'll likely succeed at reproducing.
Sea cucumbers are abundant here, too. These are bright orange, and while they keep much of their bodies hidden well within the cracks, they must extend their tentacles into the current to feed. You should also look for dock shrimp, black-eye gobies, and sculpins back in the cracks. There were also a fair number of nudibranchs in plain view, all dorids except for one unusual red sponge nudibranch. These get their red color by feeding on red sponges. However there were no sponges in sight on a recent dive.
The Intake Pipes do not have the sheer walls and the abundant fish life found on other Monterey sites, but the interesting invertebrate life makes this a worthwhile dive. This site is all about taking your time and looking into each crack and crevice. Be sure to bring a dive light with you.

At-A-Glance
Skill Level: Beginner or better
Location: Offshore of the Monterey Bay Aquarium. The Intake Pipes are clearly marked by two yellow buoys.
Access: Boats may be launched from the public ramps at Monterey Breakwater or between Fisherman's Wharf and Wharf #2.
Facilities: None
Entry and Exit: Only boat access
Depth Range: 40 to 60 feet.
Conditions: Generally quite calm.
Visibility: Generally good, 15 to 30 feet.
Photography: Great photography for anemones, nudibranchs and other invertebrates.
Hunting: This site is within the Lovers Point-Julia Platt State Marine Reserve and no marine life may be taken.
Cautions: Boat traffic, thick kelp. —