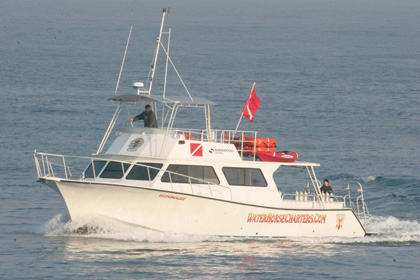 Dive Boat Details
1617 Quivira Rd.
San Diego, CA 92109
619-224-6195
---
The Waterhorse Charter vessel, the Humboldt, has been designed specially for scuba diving with an overall length of 45′ and a 16′ beam. We are able to carry 22 passengers on board! The Humboldt has a top speed of 30 mph and a cruising speed of 26 mph.
We have two compressors on board and are yoke and DIN friendly. Use our low pressure steel 85's or if you prefer bring your own tanks. We can fiil high pressure steels!
With a fresh hot water shower, and hot soup between dives, we'll be sure to make your day as enjoyable as possible.
San Diego is a World Class Dive Destination

SCUBA dive the famous Wreck Alley (the Yukon, Ruby E, NOSC Tower), the thick kelp forest of Point Loma, or visit the Coronado Islands in Mexico which are rich in sea life, and typically feature great visibility.

Whether you're a beginner or a technical diver, there's a dive site awaiting your visit! Get ready to Dive San Diego!