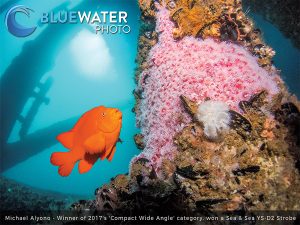 Bluewater Photo has announced that the 2018 SoCal Shootout Competition will be held September 14 – 16, 2018. Registration is open from now until September 13. This competition invites underwater photographers of all levels to dive SoCal waters and enter their best photos for a chance to win fantastic prizes, including dive and photo gear and dive travel. All camera types are eligible, including compact, mirrorless and dSLR. Photo categories will include wide angle, macro, behavior and portrait. Only photos taken locally during the contest dates may be submitted.
When asked to comment about the submission restriction, event coordinator Adam Gibson said, "The limitation of only being able to use photos taken during the September 14-16 weekend adds to the excitement and fairness of the competition."
Last year's competition awarded over $24,000 in prizes and Bluewater Photo aims to surpass that total with this year's prize awards.
Prizes include:
Platinum Sponsor prizes: A free trip to the Sea of Cortez aboard the Quino El Guardian, a multi-night stay at Volivoli Beach Resort in Fiji, a multi-night stay with Clearly Cayman Beach Resorts, along with numerous high-end video lights and camera products from Kraken. Gold Sponsor prizes: A multi-night stay at Aiyanar Resort in Anilao, hotel and diving for two people at Atmosphere Resort in Dumaguete, gear and accessories from ThinkTank, twoYS-D2 strobes from Sea & Sea, and an Olympus TG-5 camera and housing Silver Sponsor prizes: photo gear from Ultralight Control Systems and Ikelite, and local dive charters from CeeRay dive boat, Channel Island Dive Adventures and Truth Aquatics.
In addition to sponsoring the contest, Bluewater Photo also has special SoCal Shootout dive charters scheduled with a local charter boat operator.
For more information or to sign up to participate in the competition, go to bluewaterphotostore.com/socal-shootout, or contact Adam at adam@bluewaterdivetravel.com.