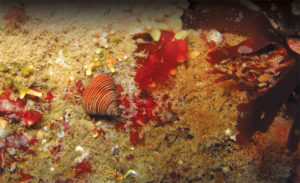 Story and photos by Bonnie J. Cardone
Seashells have been around for 500 million years. Many are collected, some are eaten, and some have even been used as currency.
Seashells belong to the second largest phylum, Mollusca, which is exceeded in size only by Arthropoda. Depending upon the person making the estimate, there are 62,000 to 100,000 members of Mollusca, including squid, octopuses, cuttlefish, nudibranchs, snails, slugs, limpets, sea hares, mussels, clams, oysters and scallops.
The New Oxford American Dictionary describes mollusks as having soft, unsegmented bodies and living in aquatic or damp habitats. Most have an external calcareous shell.
Which brings us to malacology and conchology. Malacology is the branch of zoology that deals with mollusks. Conchology — the scientific study or collection of mollusk shells — is a division of malacology. While I started out being interested in conchology, I quickly became interested in malacology. That sparked an interest in marine biology that continues today.
One of the difficulties in writing an article on shells is that their classifications are constantly changing. I was lucky with this article; only the granulose top shell's common and scientific names have been changed recently, and accepted by World Register of Marine Species (WoRMS).
Marine shells from the Class Gastropoda are the focus of this article. They have a large, muscular foot that is used for movement and, often, a single, asymmetrical spiral shell. The radula, a rasp-like organ with rows of teeth that is used for feeding, is one of a gastropod's key features and that of each species is unique. The sexes are usually separate.
Some of SoCal's prettiest seashells are those in the genus Calliostoma. There are three here, the purple-ringed top shell (Calliostoma annulatum), the channeled top shell (Calliostoma canaliculatum) and the granulose top shell (Calliostoma supragranosum). According to Wikipedia, unlike most top shells, Calliostoma lay their eggs in gelatinous ribbons that are deposited before being fertilized. And, instead of veliger larva, the young emerge as tiny replicas of their parents.
Purple-Ring Top Snail: Beaded rings of purple, gold and orange decorate the purple-ring top snail (Calliostoma annulatum). A small shell that can be .40 inch to 1.18 inches tall it is found from Alaska to Baja California. In my experience, the farther north it lives the larger it grows. Those found in the Northern Channel Islands are bigger than those found in the Southern Channel Islands. The animal is gold, with irregular patches of brown.
Channeled Top Shell: Calliostoma canaliculatum range in size from .06 to 1.4 inches tall and are found from Alaska to Baja. Marine Invertebrates of Northwest Mexico notes that these shells live in the "Highest levels of the canopy in the kelp forest, on the uppermost stipes and blades…of kelp…low intertidal to about 60 feet." The book also notes that this shell and the purple-ringed top shell, "were among the first mollusks named from the west coast of America."
Granulose Top Shell: The tiny granulose top shell Calliostoma supragranosum shown here has a purple shell, which is considered rare. They are usually yellow-brown. This snail is found from Monterey to Baja. I have only seen one and can't imagine how I spotted it. One source says they are "the size of pea." A small pea at that, measuring .42 of an inch in diameter and .38 inch tall. Calliostoma supragranosum are found in subtidal depths in Southern California. Now a member of the family Calliostomatidae, they were formerly classified as Trochidae (top snails).
The Calliostomatidae are unusually diverse. They are characterized by a stepped spire and a pointy aperture. They may or may not possess an umbilicus. The columella is sometimes so thick it partially covers the aperture. The spiral whorls can differ between narrow and robust. These shells inhabit a wide range of ocean habitats.
When compared to the shells of the Calliostoma seen here, the queen tegula, a member of the Trochoidea and Tegulidae, may seem drab. That's because its most photogenic parts are often hidden. You can only see them by turning the shell upside down and/or seeing the animal venture out. The shell's most striking feature is its umbilicus, which is bright yellow and accented with an orange semicircle. The animal's head is yellow, the tentacles are orange, and the foot is yellow and black.
The queen tegula's gray shell dwarfs those of the three Calliostoma. It can be two inches tall and is shaped like a pyramid, with layered vertical ridges on the sides. Bluish-gray ridges radiate from the umbilicus. The queen tegula is only found from Catalina to central Baja. Its mantle has fleshy filaments that serve as sense organs and an operculum that looks like a flat, coiled rope. The queen tegula is thought to be a vegetarian. Unlike Calliostoma, its eggs are released into the water, where free-swimming larvae hatch.
The author wishes to thank Lindsey Groves, Hans Bertsch and Luis E. Aguilar Rosas for their help in the preparation of this article.
Channeled Top Shell
Phylum: Mollusca
Class: Gastropoda
Superfamily: Trochoidea
Family: Calliostomatidae
Genus/Species:
Calliostoma canaliculatum
Granulose Top Shell
Phylum: Mollusca
Class: Gastropoda
Superfamily: Trochoidea
Family: Calliostomatidae
Genus/Species:
Calliostoma supragranosum
Purple-Ringed Top Shell
Phylum: Mollusca
Class: Gastropoda
Superfamily: Trochoidea
Family: Calliostomatidae
Genus/Species:
Calliostoma annulatum
Queen Tegula
Phylum: Mollusca
Class: Gastropoda
Superfamily: Trochoidea
Family: Tegulidae
Genus/Species: Tegula regina
Glossary of Seashell Parts
Aperture: Shell opening.
Columella: The pillar around which the whorls form their spiral circuit.
Mantle: The outer covering of the soft parts of a mollusk. It secretes the substance that forms the shell.
Operculum: The "trap door" that covers the aperture when the animal is inside the shell.
Umbilicus: A small hollow at the base
of the shell.