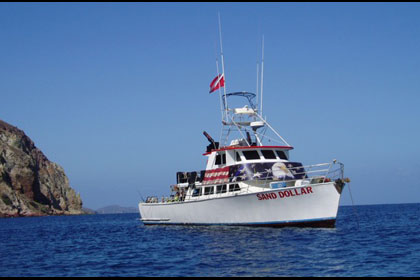 Dive Boat Details
San Pedro, CA
951-279-3483
---
Diving Charters Inc., charters the Sand Dollar for an outstanding diving experience. Your charter can be either for a Free Diving, Scuba Diving, Technical Expedition or Wreck Diving trip. The Sand Dollar can be chartered for private (closed), educational, recreational or commercial diving trips.
* 65 ft long, 21 ft beam, 73 tons * Double planked mahogany construction * 2 Radars, Autopilot, 3 GPS, Loran Navtex Fax Receiver * Satellite EPIRB, 4 VHF Radios, 1 SSB Radio * 2 Generators, 2 Water Makers * Fixed Gas Fire Extinguishing System * 3 Compressors, EAN-Nitrox Blending on-board * 4 Showers, two indoor and 2 outdoor * 2 Big Bathrooms with full size stand up showers * Full Galley with stove, oven, grill and bbq * Full Galley seating capacity for 22 passengers * 21 Bunks, 9 doubles and 12 singles: bunk layout
* Sleeps 30 Divers on Multi-day Dive Trips * Direct Dial Satellite Telephone * 38 Low Pressure (LP-80 and LP-95) Scuba steel cylinders * Lead Weights and Belts (for out-of-state divers) * First Aid Kit and Emergency Oxygen Supply * On-board Emergency Defibrillator * 2 25-man life rafts * 2 Swim Ladders with a huge swim step * High Definition Flat Screen TV and a DVD Player * Re-powered in 2011
The Sand Dollar is really equipped as a multi-day dive boat! With all the backup systems above you can be sure of a dive trip that is safe and enjoyable, and not troubled by breakdowns. The Sand Dollar is a stable vessel that cruises at a speed of 10 knots. When others turn around due to a little wind chop, the Sand Dollar safely and reliably carries on.