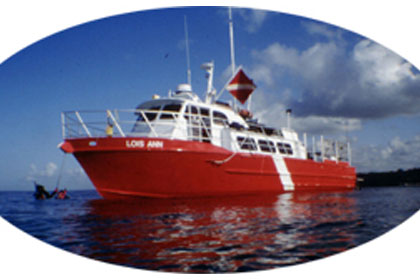 Dive Boat Details
1717 Quivira Way
San Diego, CA 92109
800-201-4381
---
We offer world-class SCUBA diving in San Diego. Come and check out the local wrecks and wonderfully diverse kelp forests.
Rates are affordable, guided tours from expert dive masters are available, rental gear is available, and air fills are always included.
The Lois Ann has been serving divers in San Diego since 1990..The boat began life as the Molly Dickens and was originally built in Louisiana by Breaux's Bay Craft in 1976. She is a 45ft vessel weighing 26 gross tons. She was built as an oil rig crew ship running supplies and crews constantly to the offshore rigs. These vessels and crews were worked hard as our oil industry continued to grow. Eventually these small vessels were retired in favor of larger ones and these crew boats began entering into the private sector as yachts.
It became a local status symbol to own one of these crew ships. Many of them began showing up at local marinas or on blocks in back yards. As a hobby the private owners would restore and build galleys on these working boats where they would then throw parties and BBQs. Unfortunately many of these boat were very rough from years of hard work and neglect and would hardly make a safe dive boat. One day while driving down the highway Larry saw a boat sitting up on blocks in a back yard and decided to stop and talk to the owner. After a quick inspection he knew he found the one. The man was a dentist and had built a nice galley inside but more importantly the Molly Dickens was intact and had been lovingly maintained. He knew that these crew boats were built like tanks and extremely functional, being able to handle anything a diver could throw at it. He also knew the wide open deck plan was perfect for divers and hauling gear. Larry bought the boat and had her trailered from Louisiana all the way to San Diego where she began her conversion into the Lois Ann.
After a few years Larry sold the Lois Ann to Randy and Cheri Rice who have owned it ever since. Randy "The Mechanic" works for Hawthorn Caterpillar and keeps the boat beautifully maintained as anyone who has ever seen inside the engine compartment knows. Cheri keeps the men organized and on track earning her title as "Queen Bee". You may rarely see her on the boat but rest assured she handles all the work behind the scenes that allows the boat to continue running! The Lois Ann has been running as a dive boat for over 20 years . There is not another dive boat anywhere in the world with as much character or intrigue as this little red dive boat!
 First owned by Larry and Lois Cochrane, she was sold in 2000 to long time crew member Randy Rice and his wife Cheri.
49′ long the Lois Ann can accommodate 20 divers/passengers. She has 2 crew members on board at all times; a captain and mate/DM. 80 cuft. aluminum tanks and weights are complimentary and on board already for your convenience. We also provide weights and belts for those that would like to leave their own behind. There are some soft weights, but predominately hard weights are available.
We also provide air fills, sodas and drinking water, as well as snacks and meals on our trips. Food provided is determined by time of day you are on board. In a nutshell: we feed you after every dive on all trips, and even include breakfast before the first dive when going to the Coronado's.
There is a large 55 gallon rinse bucket on deck for cameras, lights and masks. No defog in the bucket please. There is a small shower head on the deck as well as a full head below with marine toilet and shower.
The galley area on the boat is for dry items and persons only. We do not allow divers in wetsuits below decks once you;ve been in the water, with the exception of the bathroom.