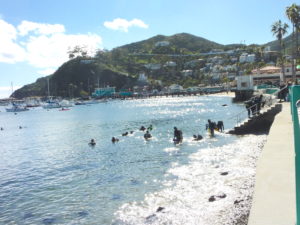 USC's Catalina Hyperbaric Chamber and Wrigley Institute for Environmental Studies–Catalina Conservation Divers are proud to host Catalina Island's 39th Avalon Harbor Underwater Cleanup, which is scheduled for Saturday, February 20, 2020. The event is one of the largest annual dive events in Southern California. It began in the 1970s in an effort to cleanup Avalon Harbor, and this event is the only time diving is permitted in the Harbor.
Southern California divers have made the Avalon Harbor Underwater Cleanup one of their premier social events of the year. Divers retrieve trash and lost items from Avalon Harbor, and revel in the warm friendly atmosphere of Catalina Island. Last year, nearly 535 participants recovered 2,740 pounds of trash. Proceeds from the event will benefit USC's Catalina Hyperbaric Chamber and Wrigley Institute Scientific Diving Program.
About the Chamber
According to their website, The USC Catalina Hyperbaric Chamber, located on the campus of the USC Wrigley Marine Science Center at Big Fisherman Cove at the West End of Catalina Island, has been serving Southern California Divers since 1974 as an emergency medical facility for the treatment of scuba diving accidents. Without proper treatment, major problems from diving accidents, most commonly decompression sickness (the "bends") and air embolism, can lead to permanent disabling injuries and in some instances be fatal. In the Southern California area around Catalina Island, the combination of effective on-site management of a diving accident along with the rapid response by Los Angeles County Baywatch Lifeguards, or the U.S. Coast Guard, and swift, effective treatment at the Chamber can save a diver's life.
The USC Catalina Hyperbaric Chamber places a great emphasis on education. Programs taught by the Chamber at the Wrigley Marine Science Center, and on the mainland, include Emergency Dive Accident Management (EDAM) Emergency Response Diver (ERD), and Hyperbaric Chamber Operations. Professional, recreational, and research divers come from as far away as Antarctica to attend these courses. Chamber Tours and experiential Chamber "dives" for groups and service organizations.
The USC Catalina Hyperbaric Chamber is set up as an extension of the Los Angeles County/USC Medical Center – Department of Emergency Medicine. Los Angeles County covers about half of the annual operational costs of the Chamber. The Catalina Hyperbaric Chamber depends upon the diving community for these remaining operating funds which come from other sources, such as, fund raisers, donations, promotional items, and tuition from accident management and chamber operation courses. About $80,000 needs to be raised from these sources each year to insure the continued operation of the Catalina Hyperbaric Chamber. The Cleanup is an important fund raiser that helps keep the facility operating.
Event Details
Register online at http://bit.ly/39thCleanup
Registration Fees: Divers: $55 January 7th – February 14th; $65 Day-of Registration at Wrigley Stage; Non-Divers: $30
Prerequisites: Each diver must sign a Safe Diving Practices form and a release waiver in order to participate. Forms are available on the website. 
Dive Club Registration: Adding your dive team to the registration page allows your divers to register individually or as a group – all you have to do is assign a team leader for day-of collection of dive forms. For more registration information email Katie Chvostal at chvostal@usc.edu.
For general event information, email wies-ccd@usc.edu or contact the USC Hyperbaric Chamber at (310) 510-4020.
Call for Volunteers, Sponsors and Prize Donations
The Avalon Underwater Cleanup is always a huge success thanks to the many sponsors, prize donors and volunteers who donate their time, money and prizes to support the endeavor. 
To learn about sponsorship opportunities or to donate a prize, email cleanupsponsor@gmail.com.
To learn how you can become involved as a volunteer, email wies-ccd@usc.edu.